Hilton Rose Hall Resort and Spa, Montego Bay - Full Review With 100+ Photos
The Hilton Rose Hall Resort and Spa, Montego Bay is one of eleven All-Inclusive Hilton properties in the world. This alone made this resort so tempting. Unlimited access to food, resort activities, and the largest water park on the island, Jamaica was calling out to us and we happily obliged.
Jamaica has been on our bucket list for a while and planned a visit in celebration of our 2nd wedding anniversary. This was our very first all-inclusive resort experience. We've cruised before with Disney Cruise Line and Carnival, so we were excited to eat, play and chill.
We visited for 4 nights in February 2019 using a combination of points and cash. In preparation for this trip, we could not find in-depth information regarding this resort so we are so excited to give you our review of our experience at this resort. We hope this review helps you with your planning process.
Booking
We booked directly on Hilton website. I will be completely honest, this is probably the absolute best use of Hilton points. If you're looking for a vacation destination to bank those Hilton Honors points you've been saving, this is it! You get a full service resort with a ton of amenities, all dining and non-motorized activities included and a water park! It is absolutely a wonderful value and can't recommend it more if you're looking for a place to relax and chill.
Information
Address: ROSE HALL. MAIN ROAD, MONTEGO BAY, 000, JAMAICA
Phone Number: +1-876-953-2650 • Fax: +1-876-684-0203
Check in: 4pm • Check out: 11am
Arrival and Check In
We arrived on a Monday at 1pm and it was so calm and serene. From the moment Vanton opened our car door and helped us with our bags, we had an impeccable experience. There was no line to check in and we were immediately helped by Asha at the front desk. During check in, we were served drinks and a cool towel. I had felt like I had walked in heaven.
When you arrive in the lobby, to the right you'll find the concierge and front desk check in and to the left you'll find the dinner reservation desk, the activities desk and photos desk.
Chadene, the special events coordinator, came by to say hello and touched base with me on our private dining experience booked for Valentine's Day. While Chadene was super nice, she was SUPER awkward about it and totally leaked the surprise making my husband ask a ton of questions.
After checking in, Vanton helped with bringing our bags up to the room. While walking toward the elevators, he asked which room we were in and when we told him "579" he said "no no no, let me help get you a better room" and went straight to Asha to help us get a better room. They explained that a convention of 400 people was leaving the next day and they would move us to a better room the next day. We happily obliged. We would stay in 579 the first night then switch to a new room for the next three nights. Not a bad deal.
Needless to say, we had a great first experience during check in.
Dea: 10/10
Kevin: 10/10
Rooms
The rooms are nothing special or out of the ordinary in comparison to the Hilton standard. Our first room, room 579, was located in the East Tower. We had a king bed with a partial ocean view. It was clean, comfy and a stones throw away from the food and pools. It had a view of the roof top with the beach in the background. It was still beautiful and we were happy where we were.
Our next room was the same exact room, but this time in the West Tower with a view of the golf course and ocean (Room 533). The view was beautiful but there were some quirks about the room that made us wonder if this was truly an upgrade.
Bugs: this new "upgraded" room had tons of little critters and it. was. disgusting. We wondered if it was because we were closer to the golf course and greenery. You could not leave any kind of snack or juice out or else it would be attacked. This alone was a deal breaker for us to not enjoy the room.

Elevators: this tower had one of two elevators broken down. And the one elevator that was working was painfully slow. We met a gentleman who said it was like this his entire two week stay.

Distance: it was a little further away and a bit of a trek to get to the pools and food and for us, we prioritize convenience over a "view" when the whole resort was beautiful.
So based on previous experience and personal preferences, we would super recommend a room in the East Tower, especially if you have children. The East Tower guarantees being closer to the pools, spa, and right next to the buffet.
** Tip: the mini fridge is stocked with water bottles, soda and beer. You can request for more of anything from the house keepers. We requested for more water and they brought us a little case of water bottles for our whole stay. So nice having fresh cold water on hand.
Dea: 7.5/10
Kevin: 7.5/10
Pools
The pools are just as awesome as they're advertised. There's a nice lazy river that spills out to a larger zero-entry pool with a pool bar. There are a few water slides. One big tube slide and one with a bunch of little slides.
There's not much reinforcement when it comes to rules of the pool. There were kids playing all over the rocks and getting to each small pool a little dangerously to be honest. I think there could be more supervision by staff and/or parents. Thankfully we didn't see anyone get hurt but it was a solid recipe for an accident.
One of our favorite memories from the trip was swimming in the rain. It was so much fun! But beware, it's an invitation for mosquitos too. If you're prone to mosquito bites, watch out cuz they'll getcha!
The Resort and Public Spaces
The resort itself and the public areas were well kept and very picturesque.
Service
Service at the resort was overall pretty good. We didn't have a bad experience per se, but don't expect Disney level customer service. Every person we came across was nice or cordial at the least. There's room for improvement for those working in the coffee shop and dining areas.
Side note: Chadene. While she was a very nice person, it was a little over the top, over-selly friendly throughout the entire duration of our stay. Every time we'd pass by her, she'd get really weird and buddy buddy with me and this gave my husband some really weird, exclusion vibes.
Also, it was a full down-pour on Valentine's day which meant the special dinner on the beach I paid extra for went down into flames. She offered us two options: dinner in our room (NO) or dinner at Three Palms. We chose Three Palms but there was a HUGE miscommunication and someone had entered our room without our consent to "prepare" dinner in our room. I don't understand how dinner in our room could replace dinner on the beach. I also couldn't understand how someone would enter our room without our consent.

Dea: 8/10
Kevin: 9/10
Dining
The food across the entire resort was just A-ok. There was enough food to be full but nothing to rave about.
Dinners at the restaurants require a reservation. The resort doesn't take reservations in advance of your stay so it's advised to make those dinner reservations upon arrival. This can be done at the dinner reservations desk in the lobby.
Our personal favorite meal had to have been our lobster dinner on Valentines Day (added cost) and the nachos at Mangos were our personal fave!
The food offered at Fresh Buffet was underwhelming, although the breakfast was a hit. We loved the breakfast options and the view can't be beat. The first day was great but it got really crowded as our stay progressed. We recommend you arrive early for a nice table and view.
Lunch is just okay and dinner is a smidge better.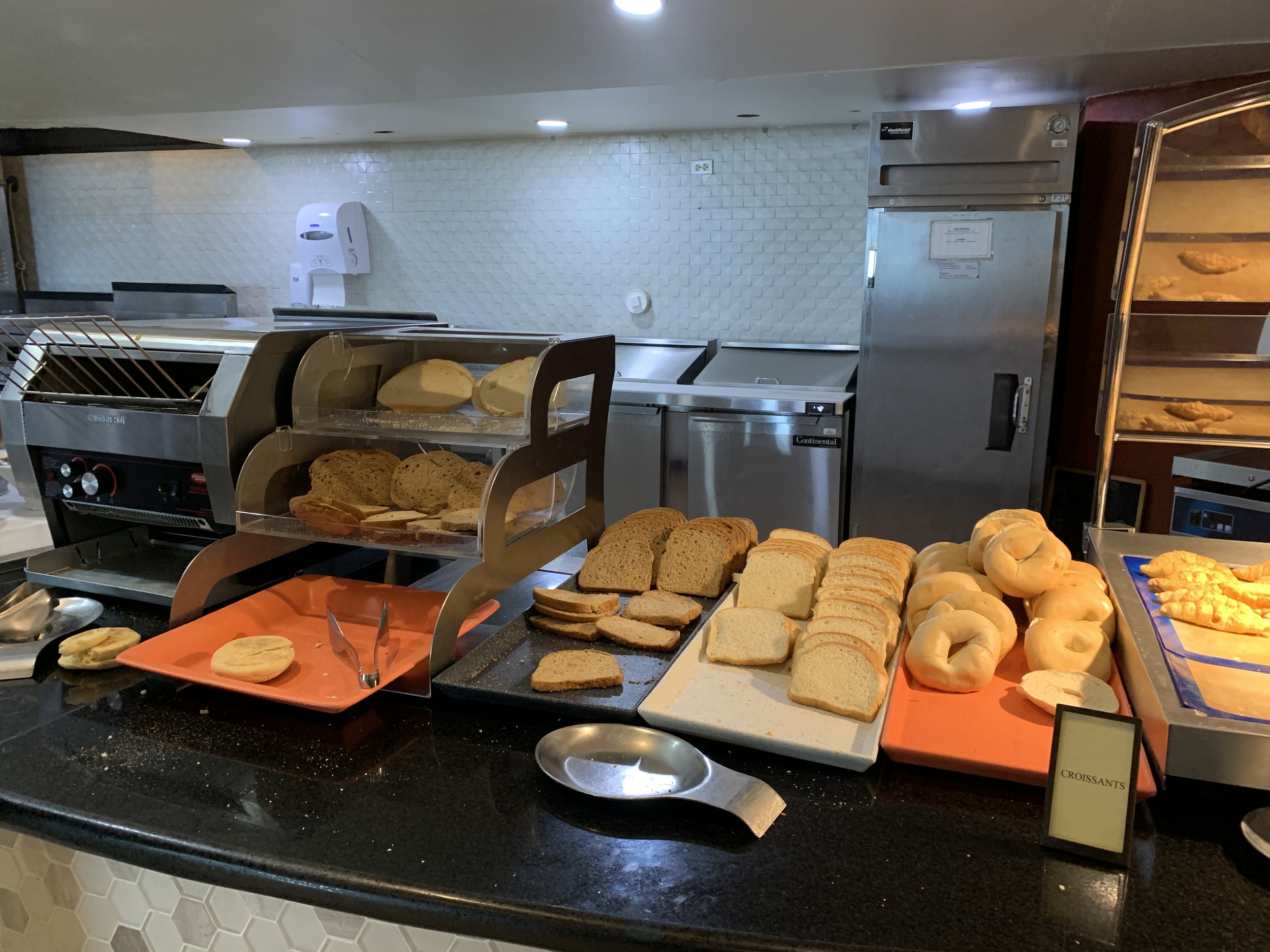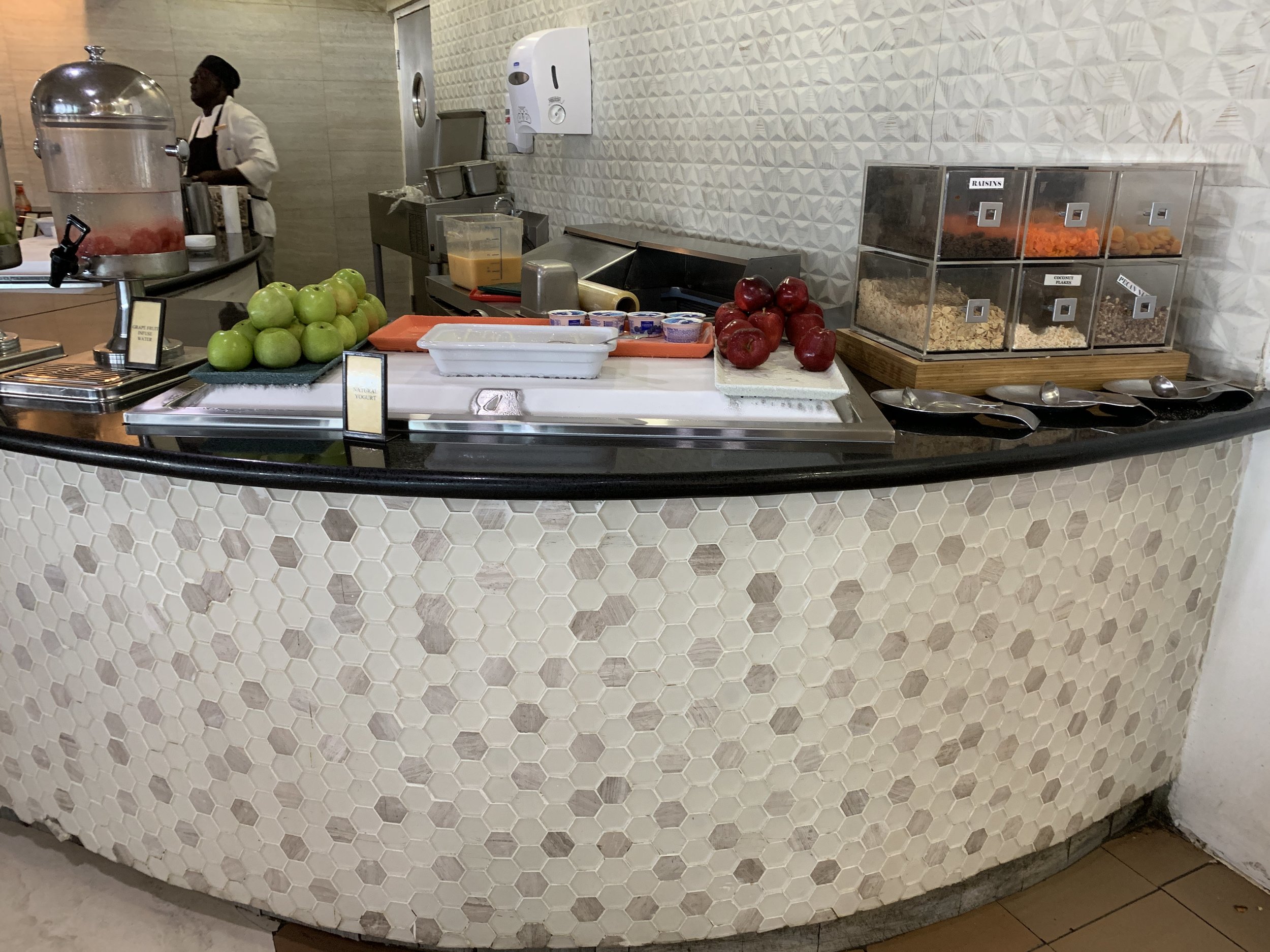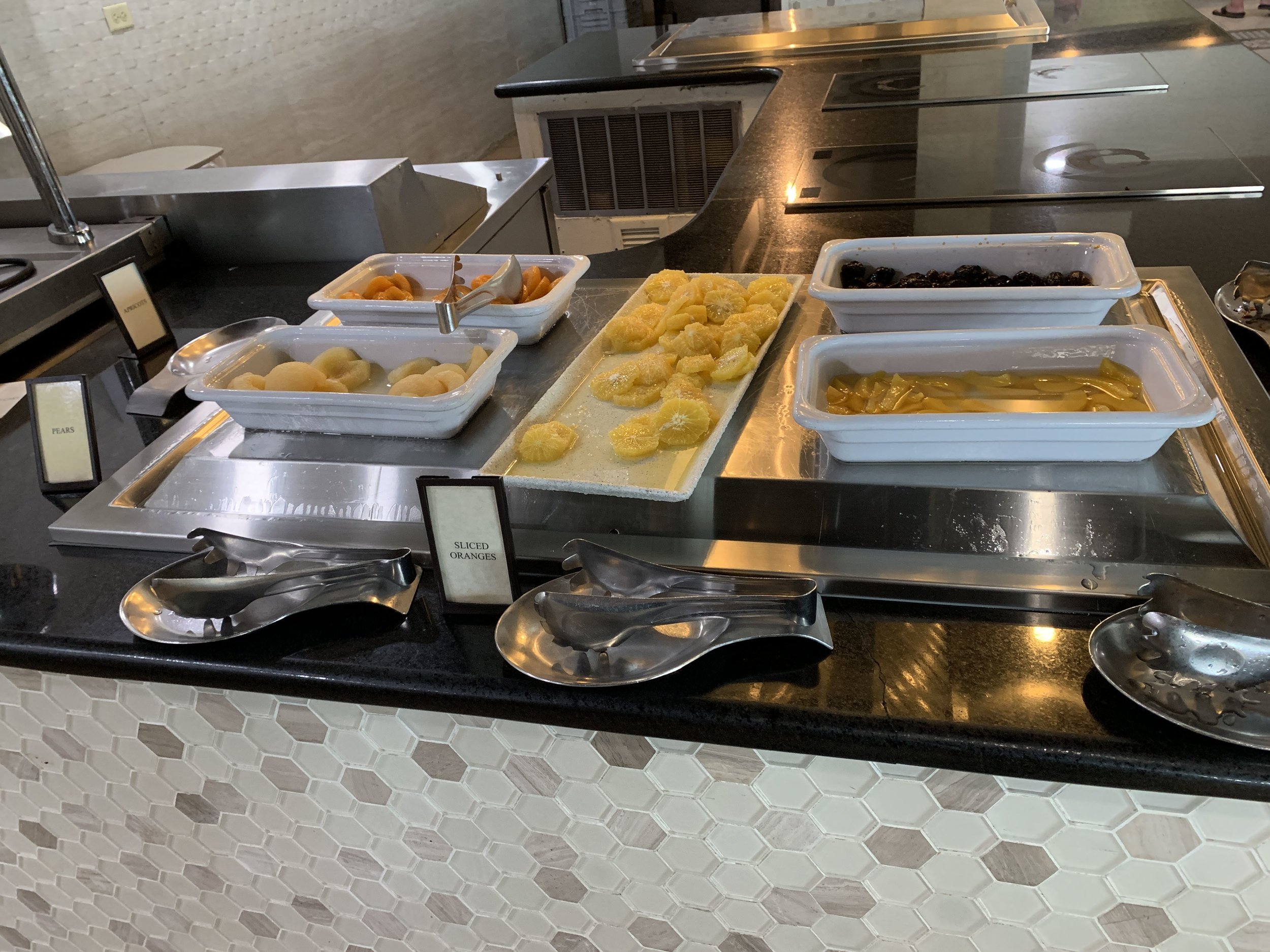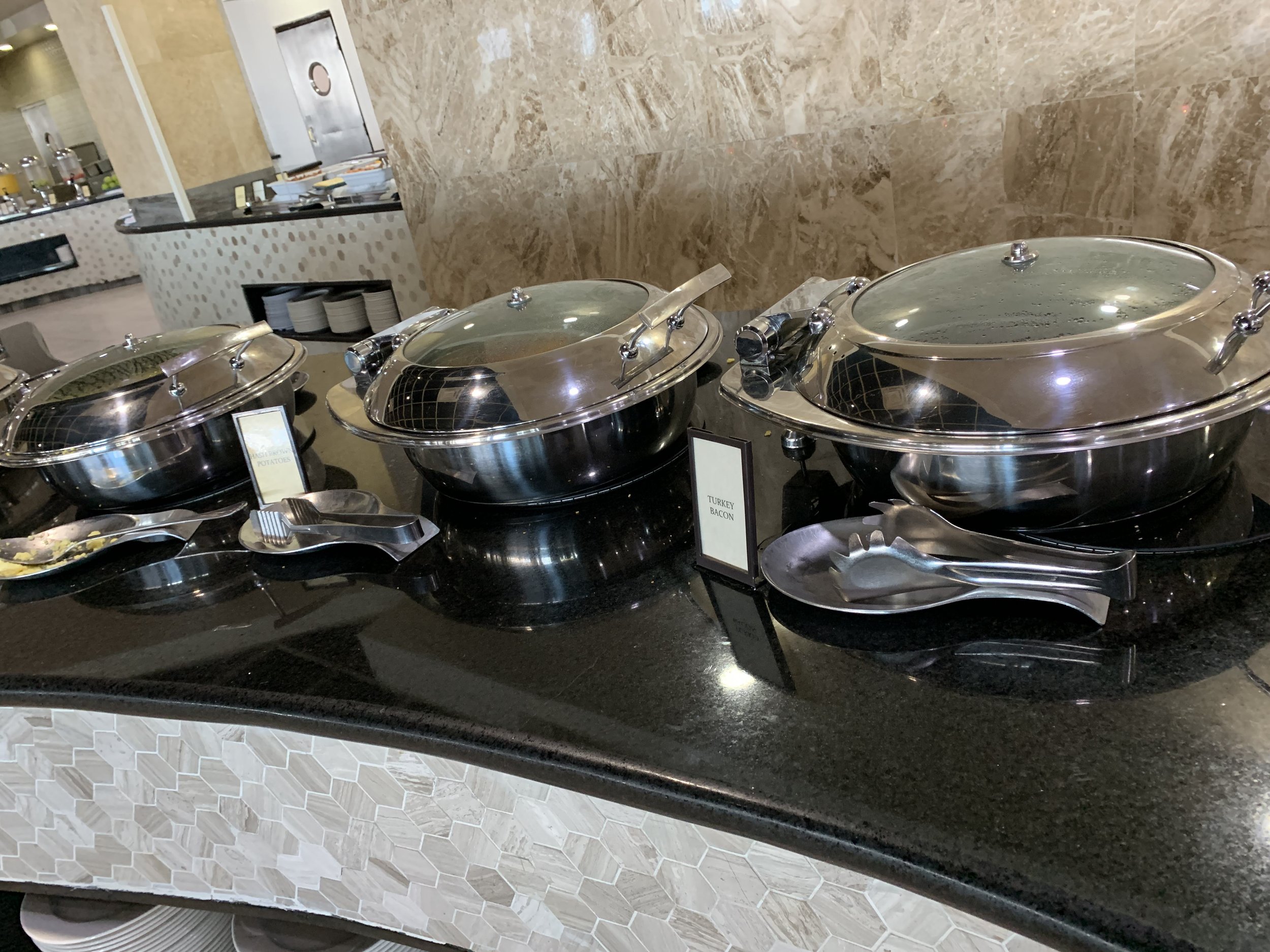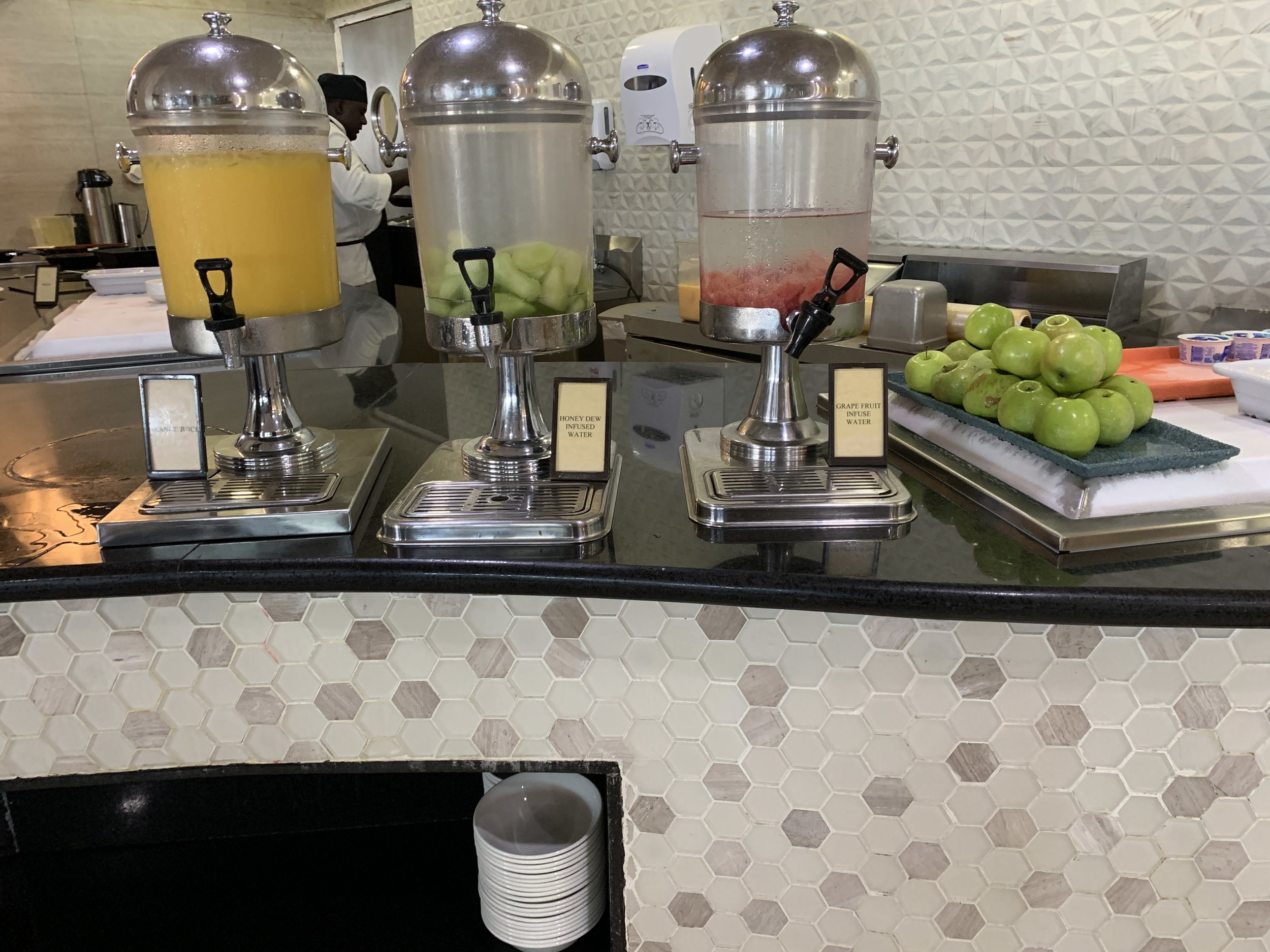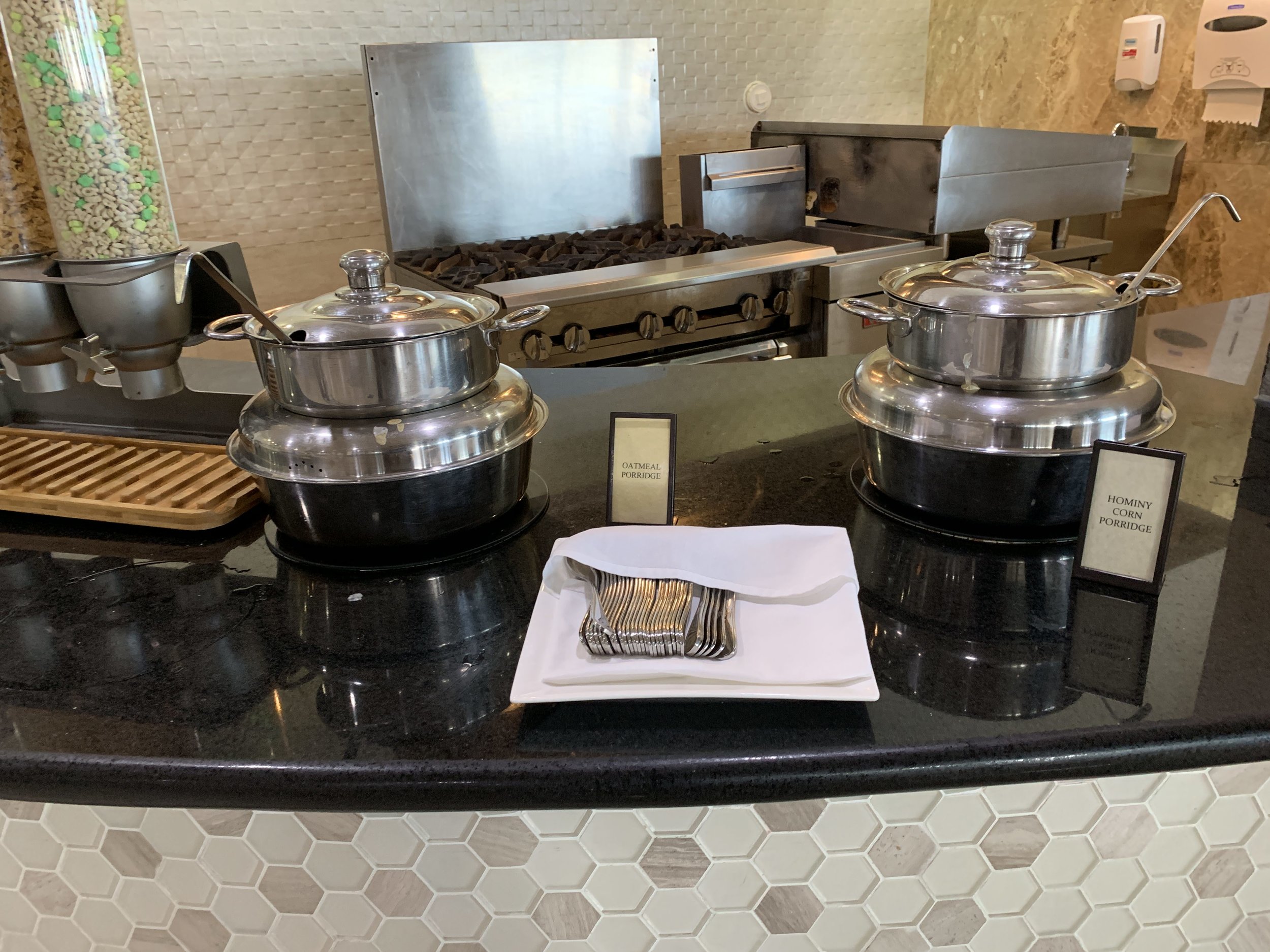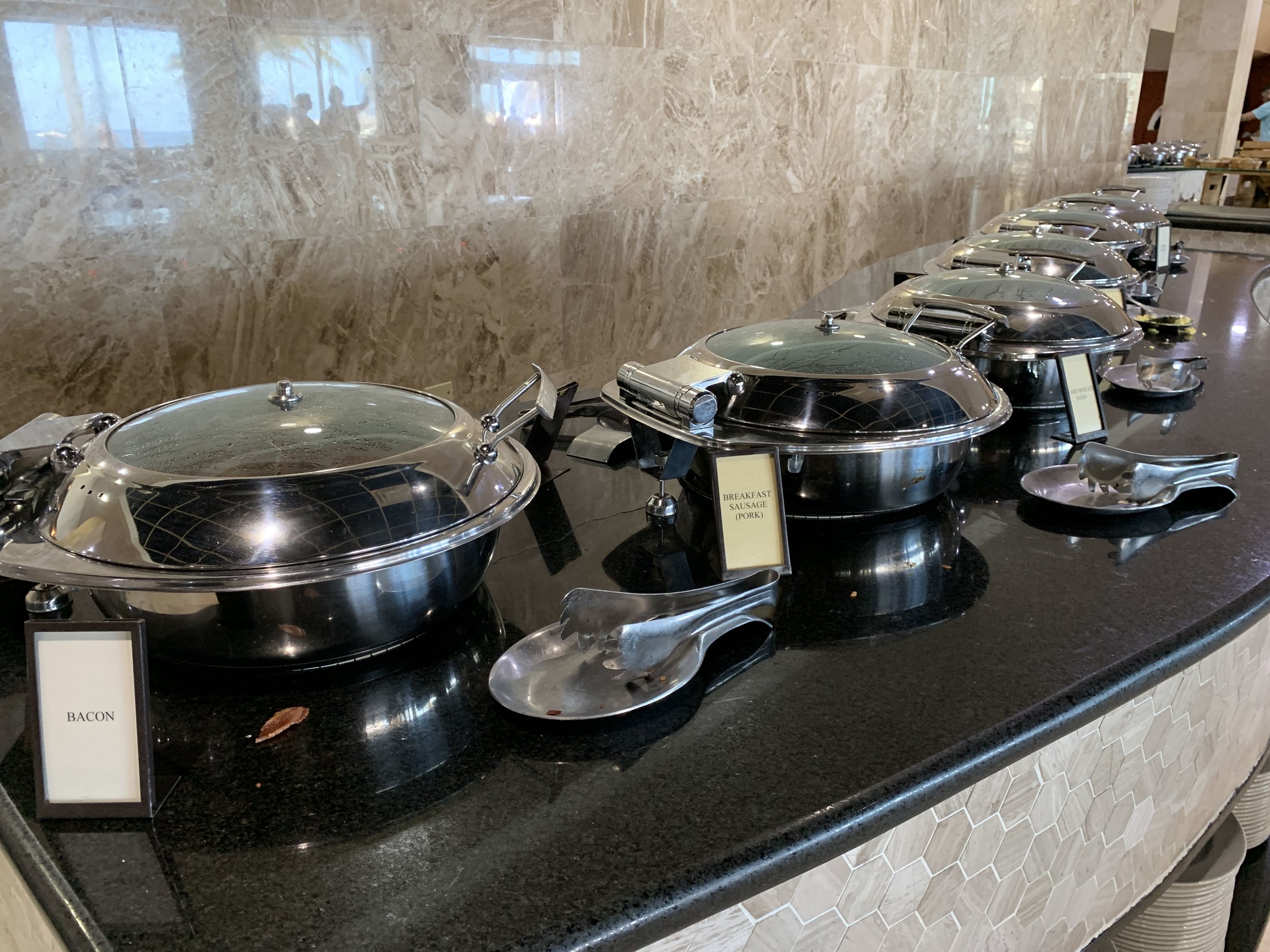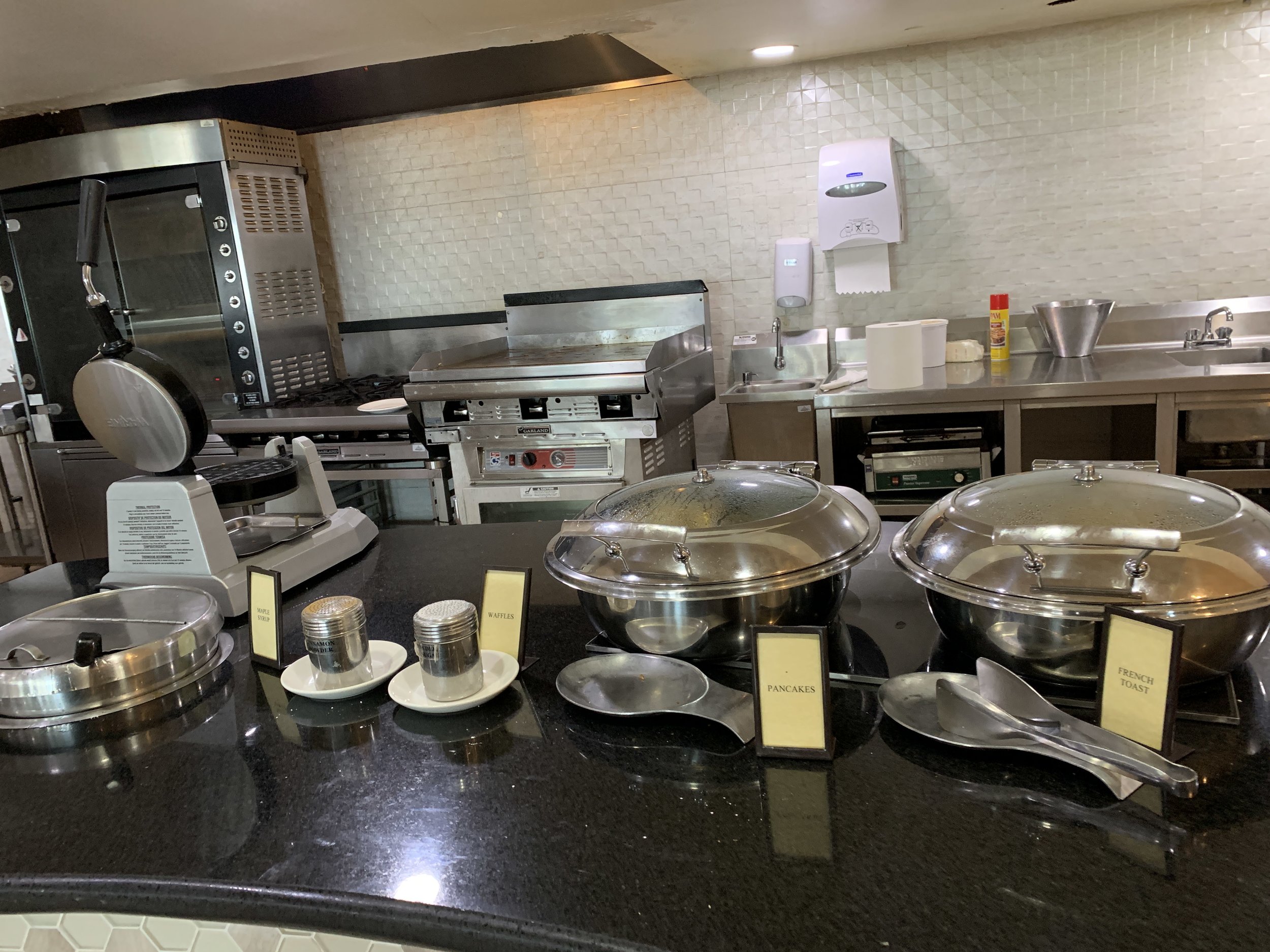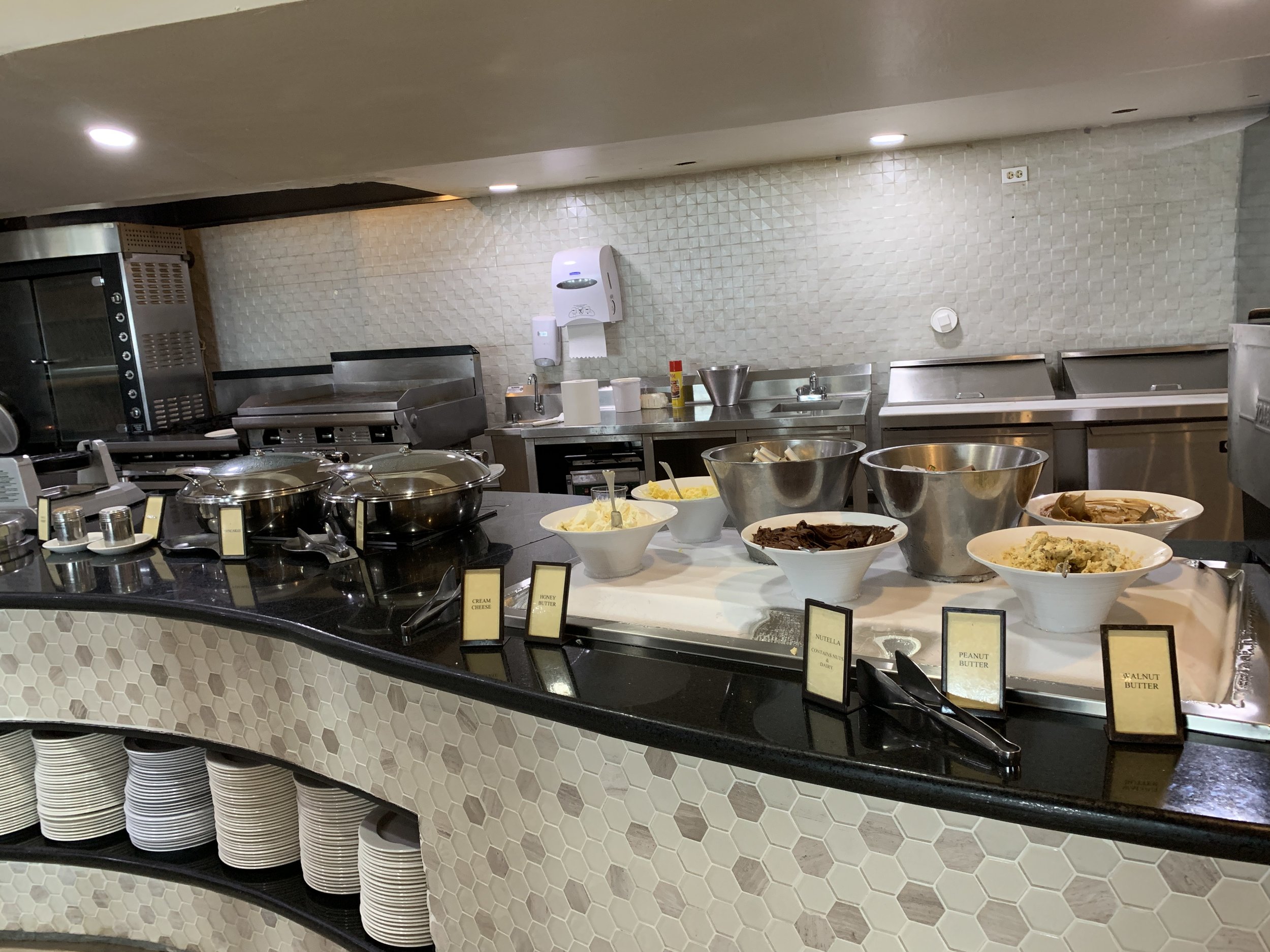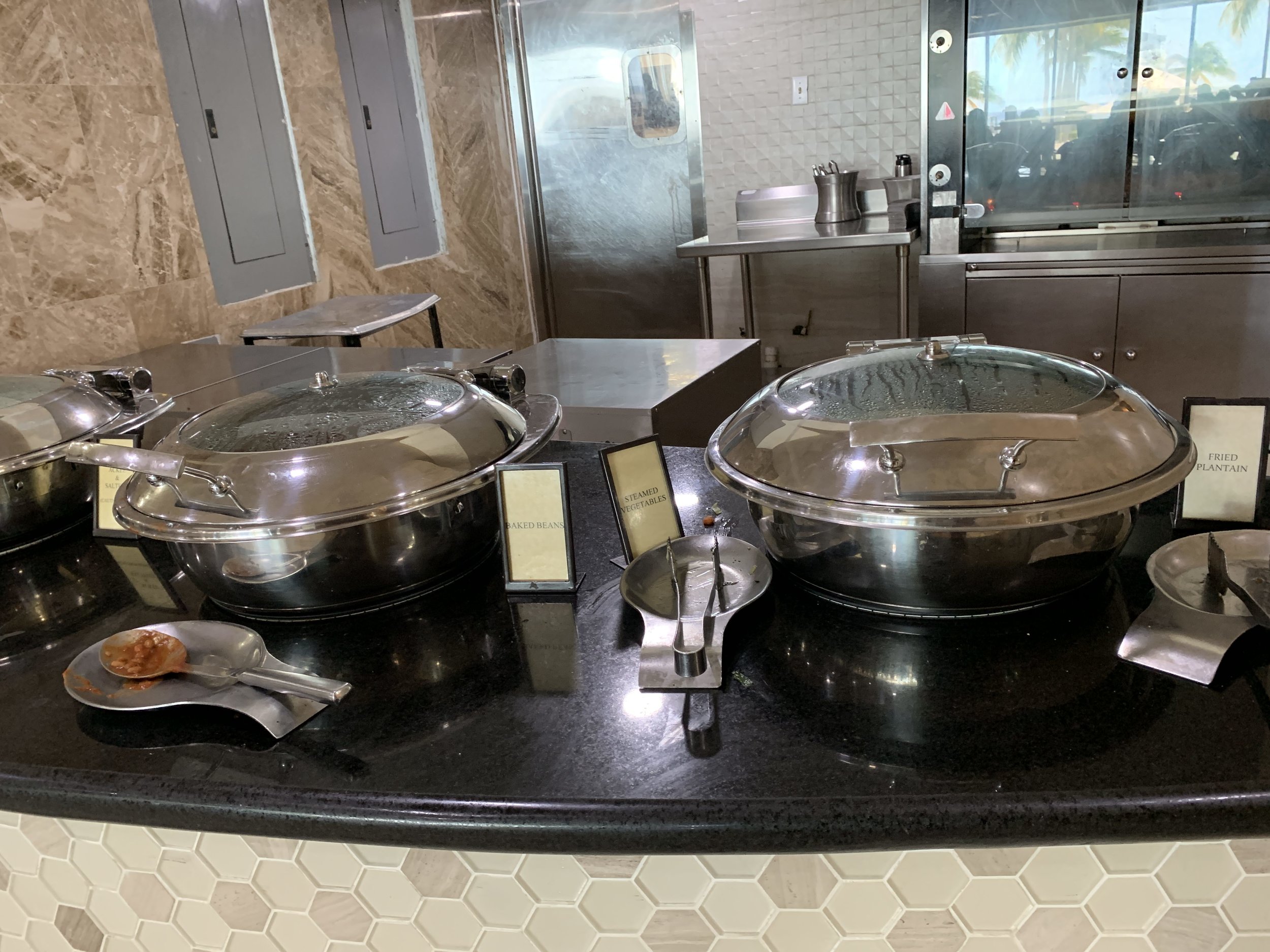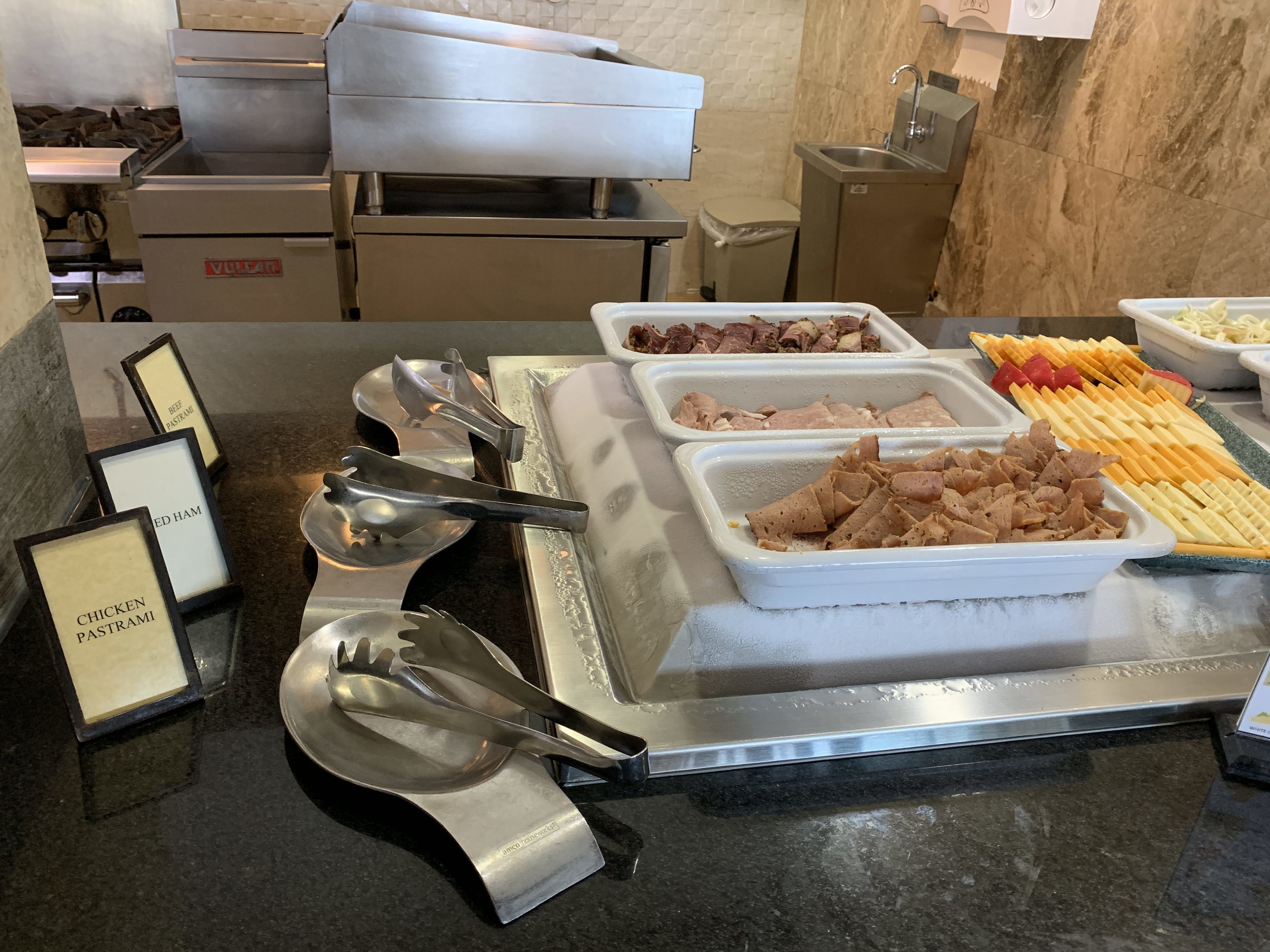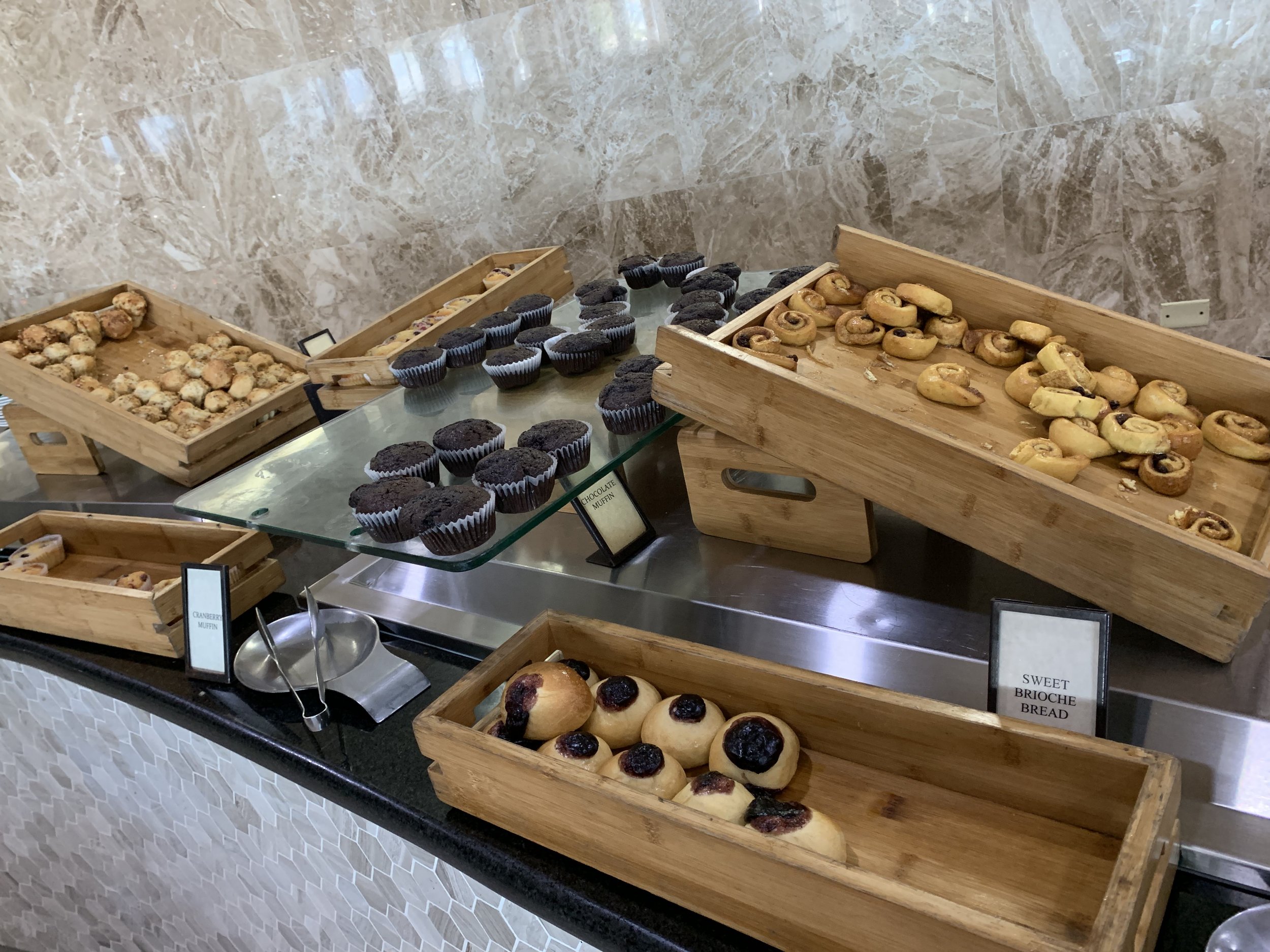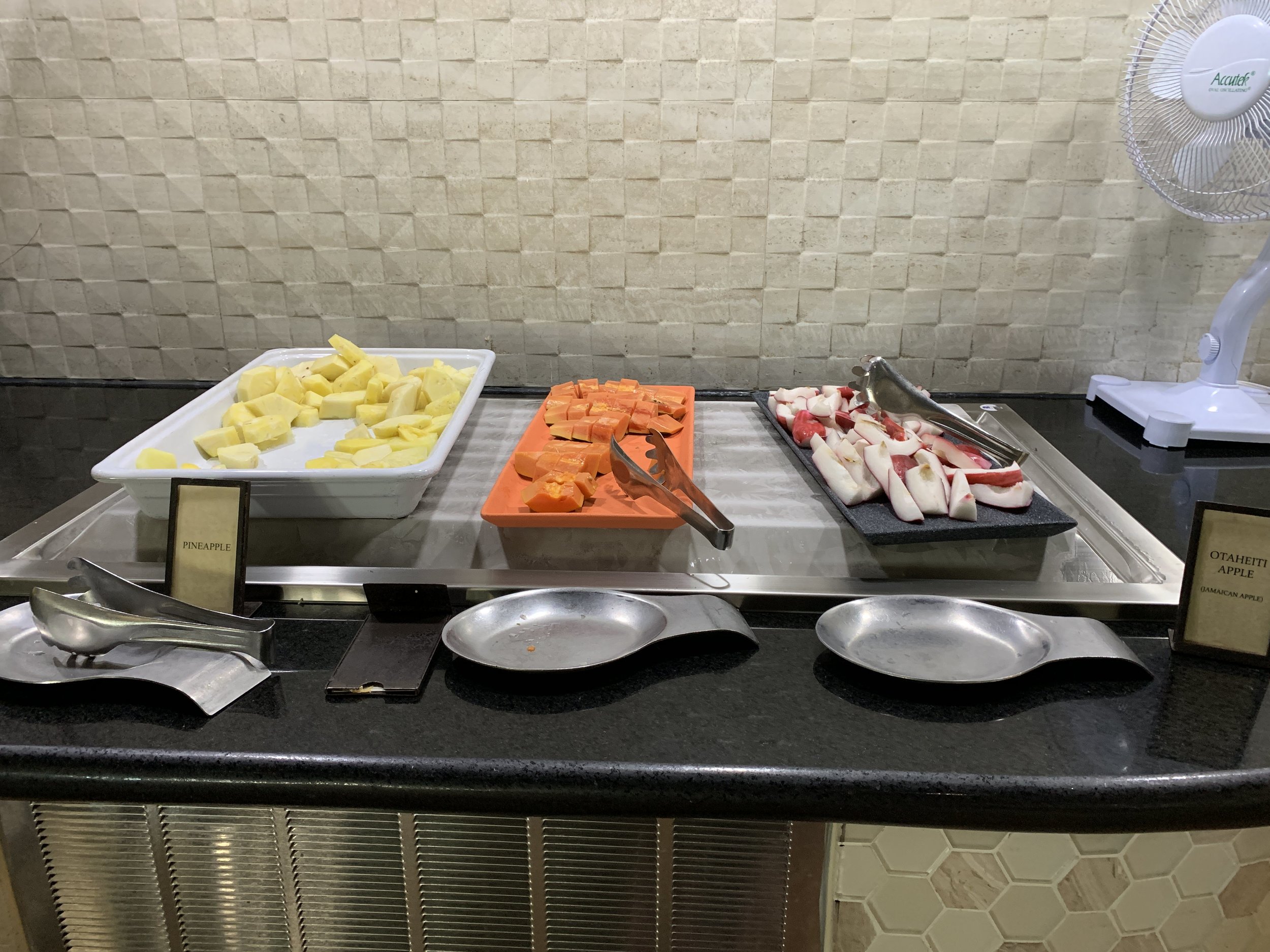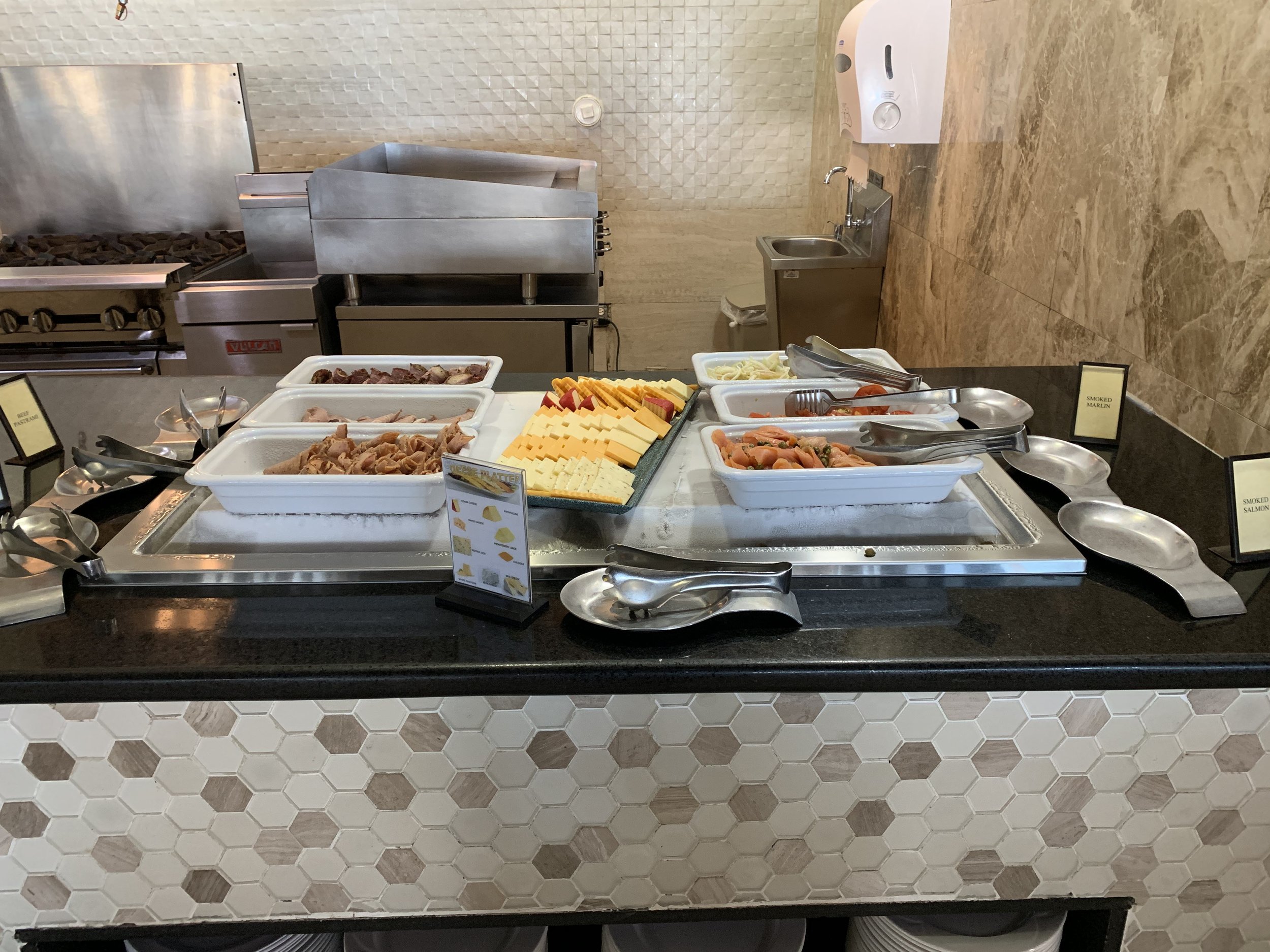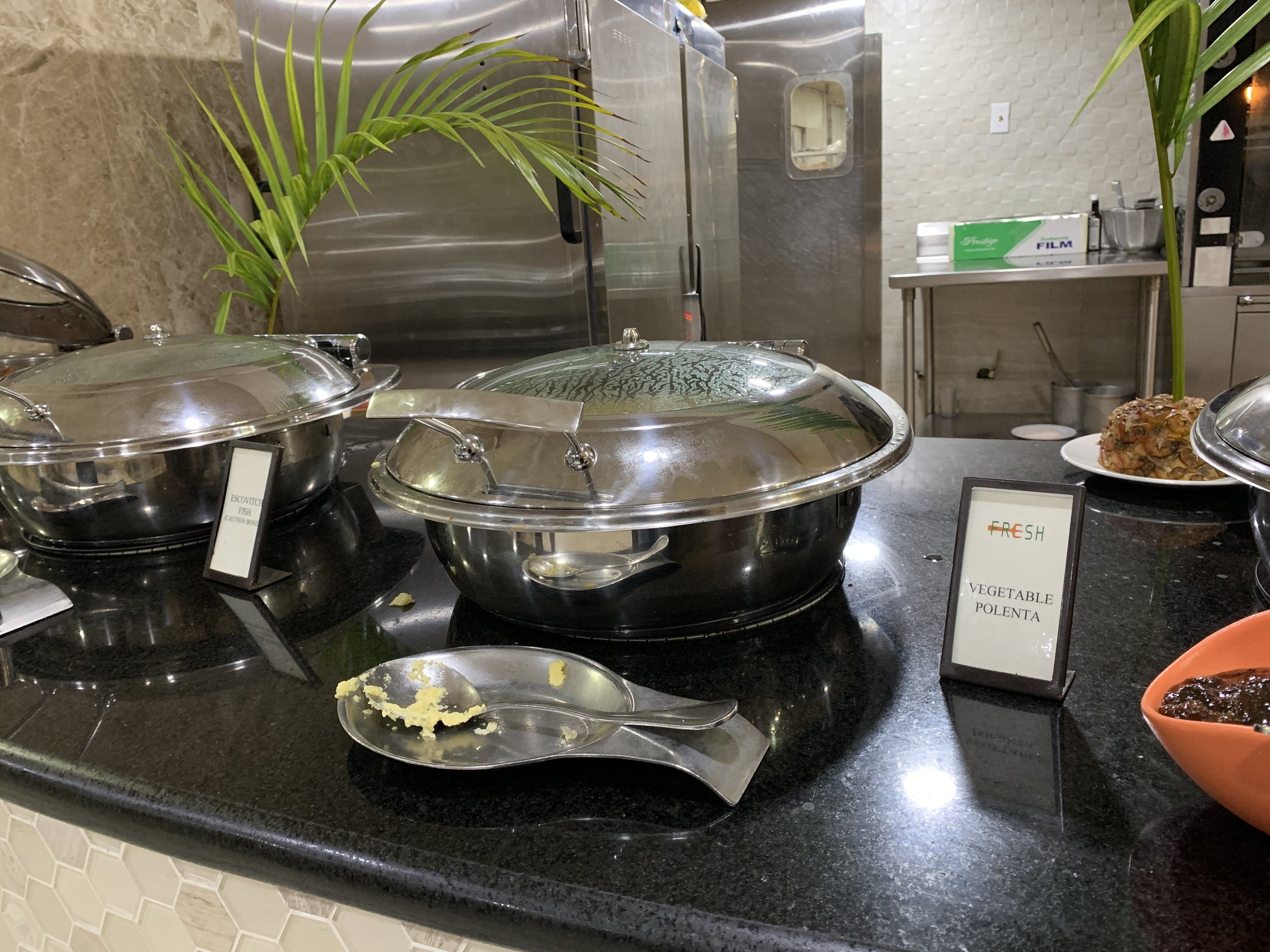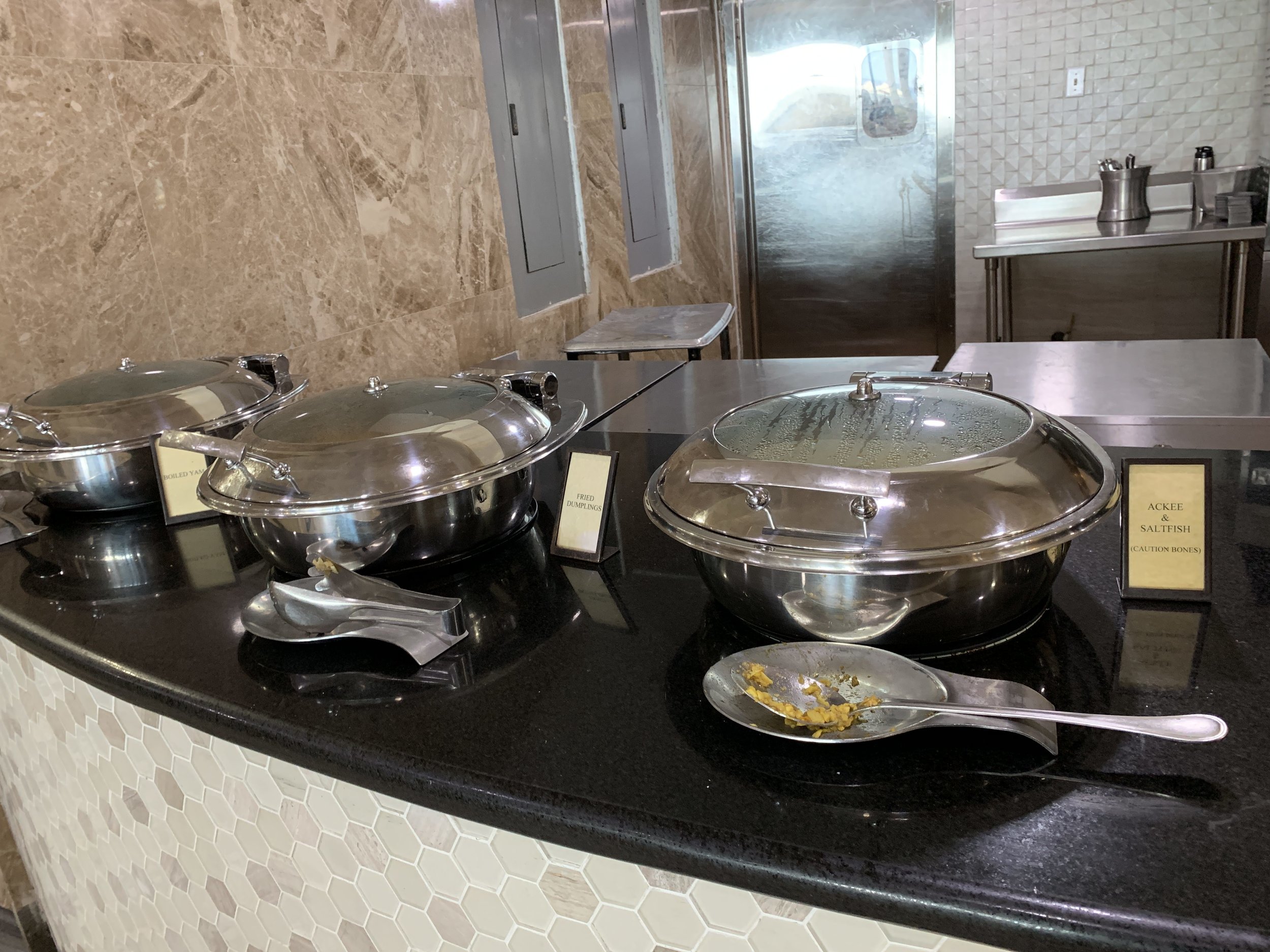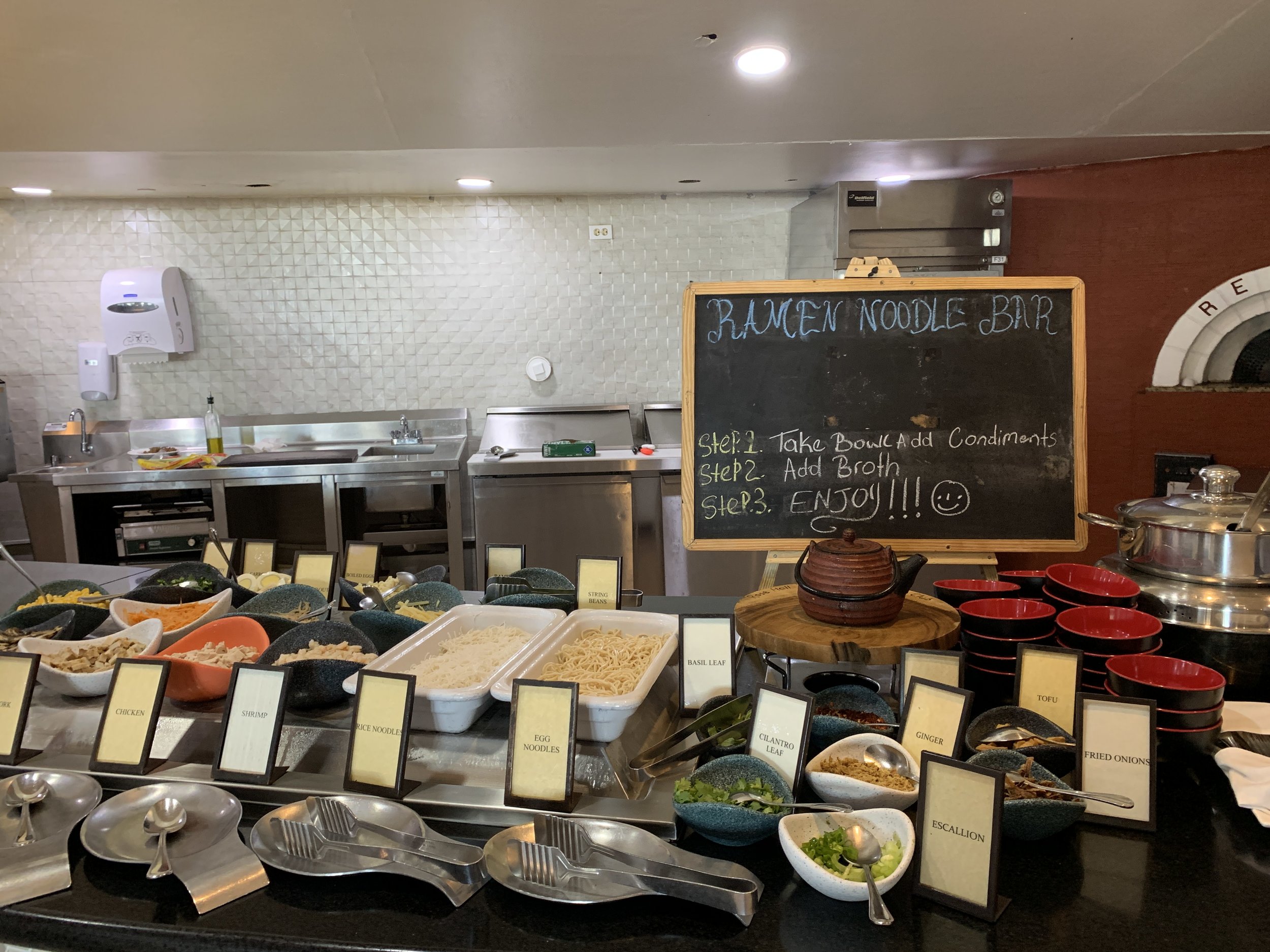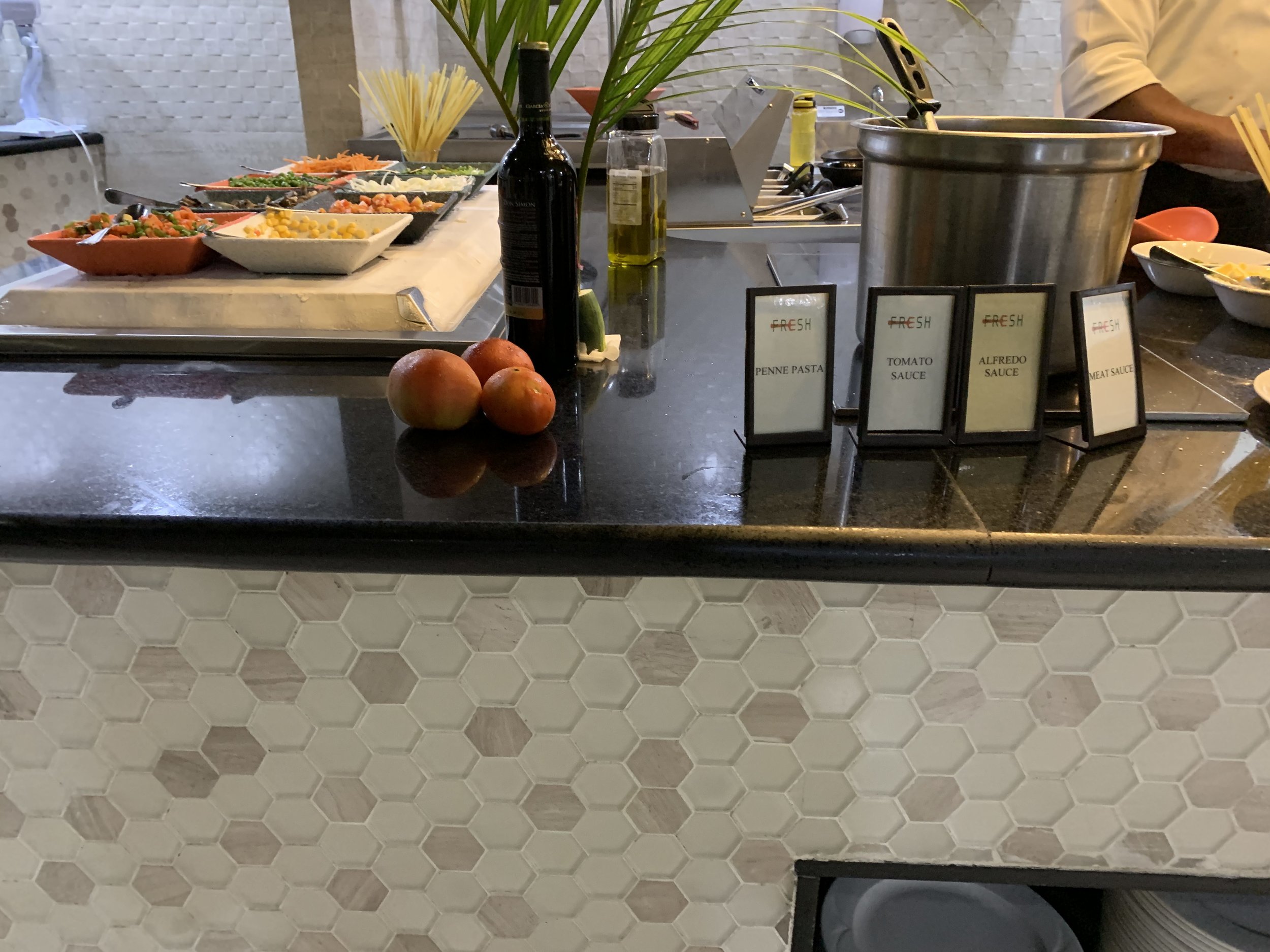 Fresh Dinner Buffet
One evening, the Fresh Dinner Buffet moved outside and was a super cute Jamaican BBQ theme. Loved the small change of pace and scenery for the buffet.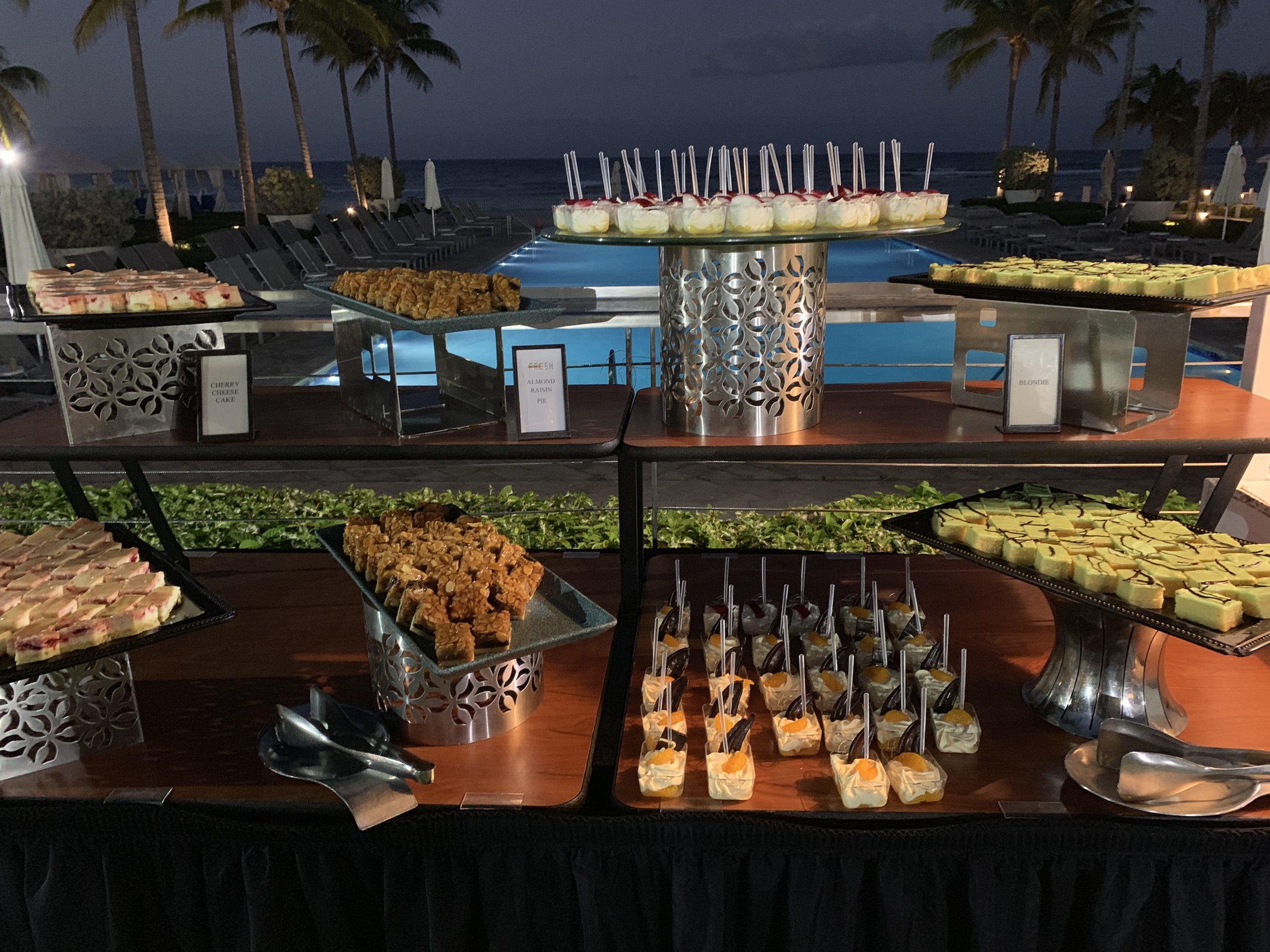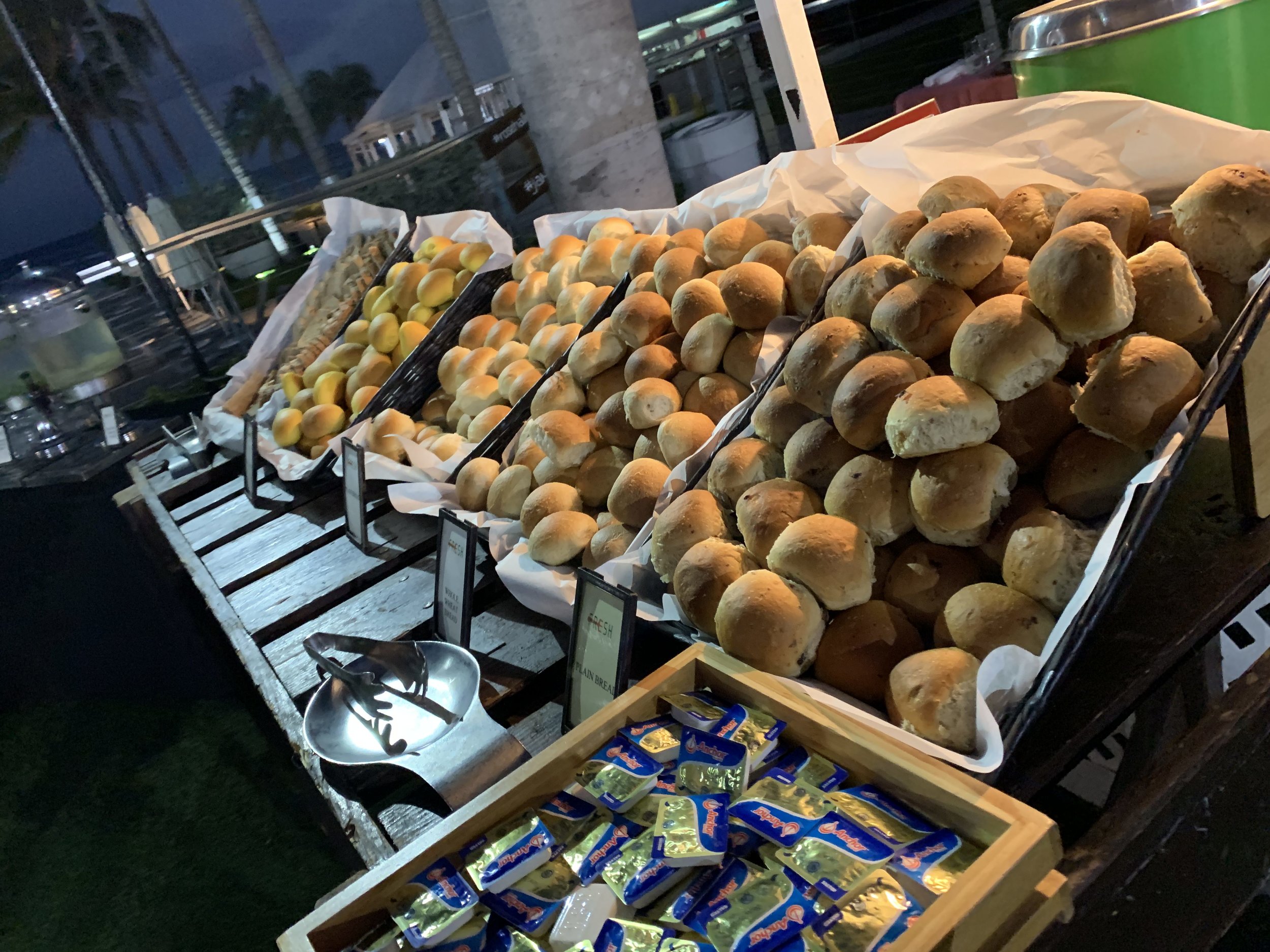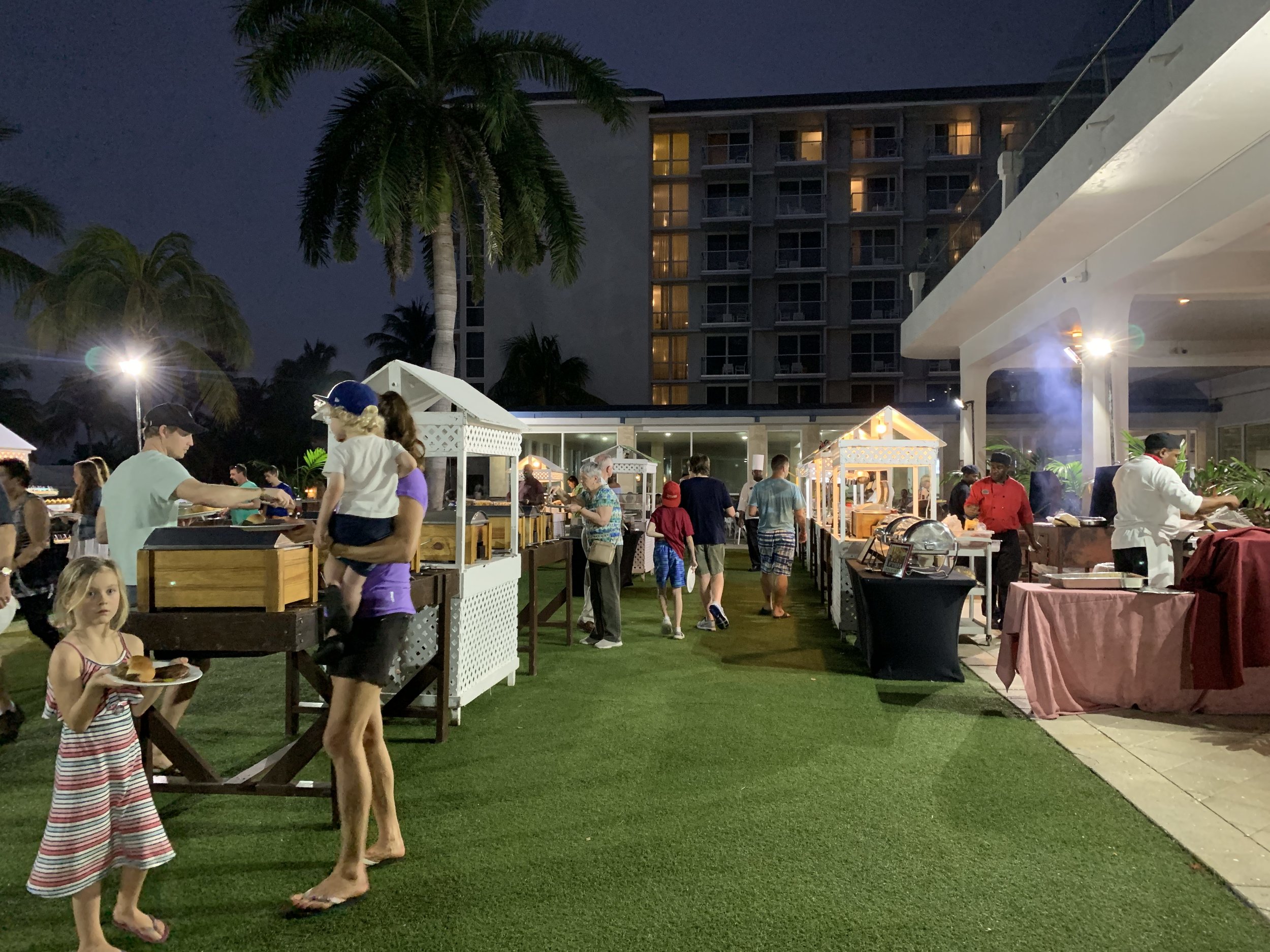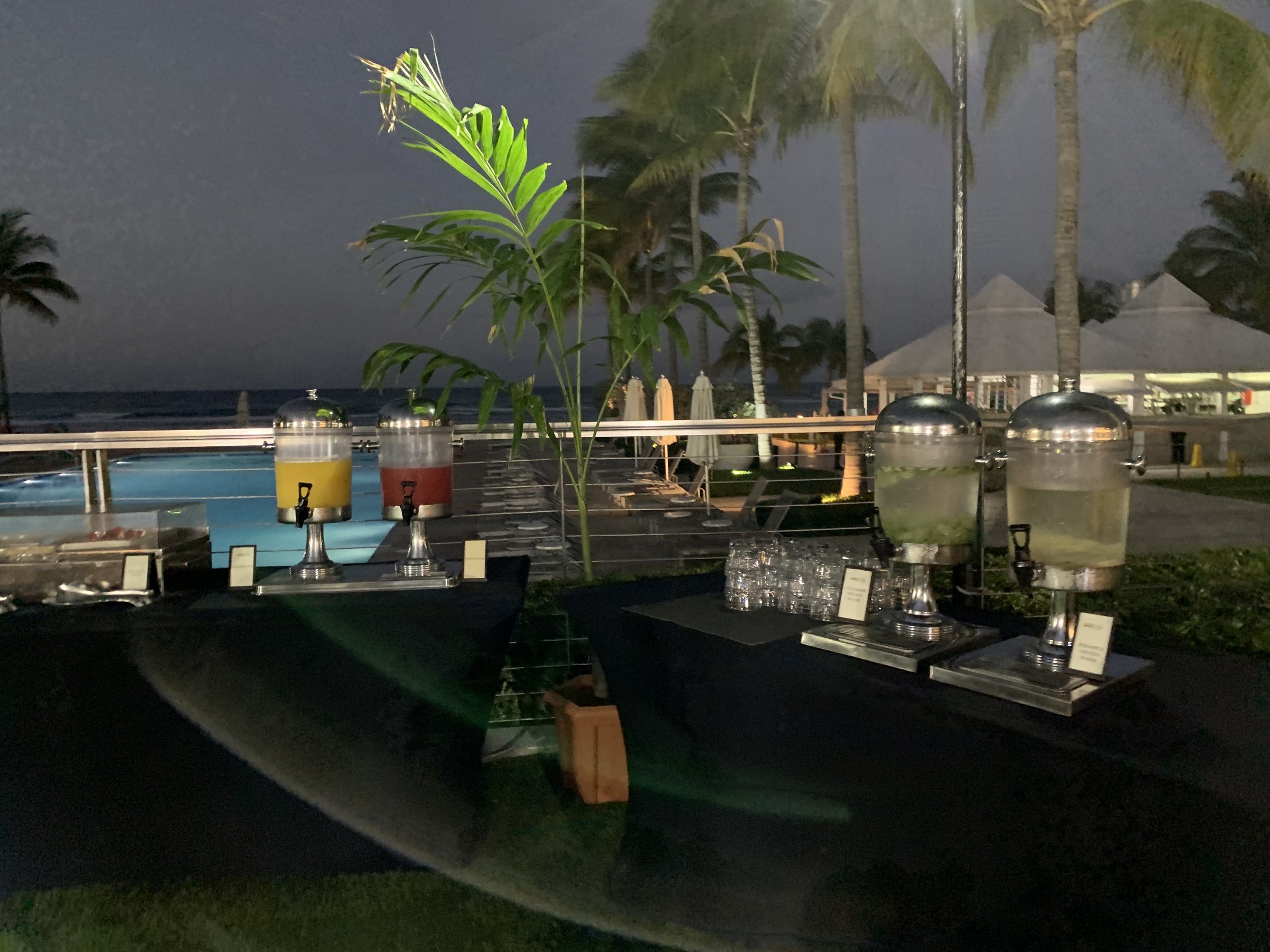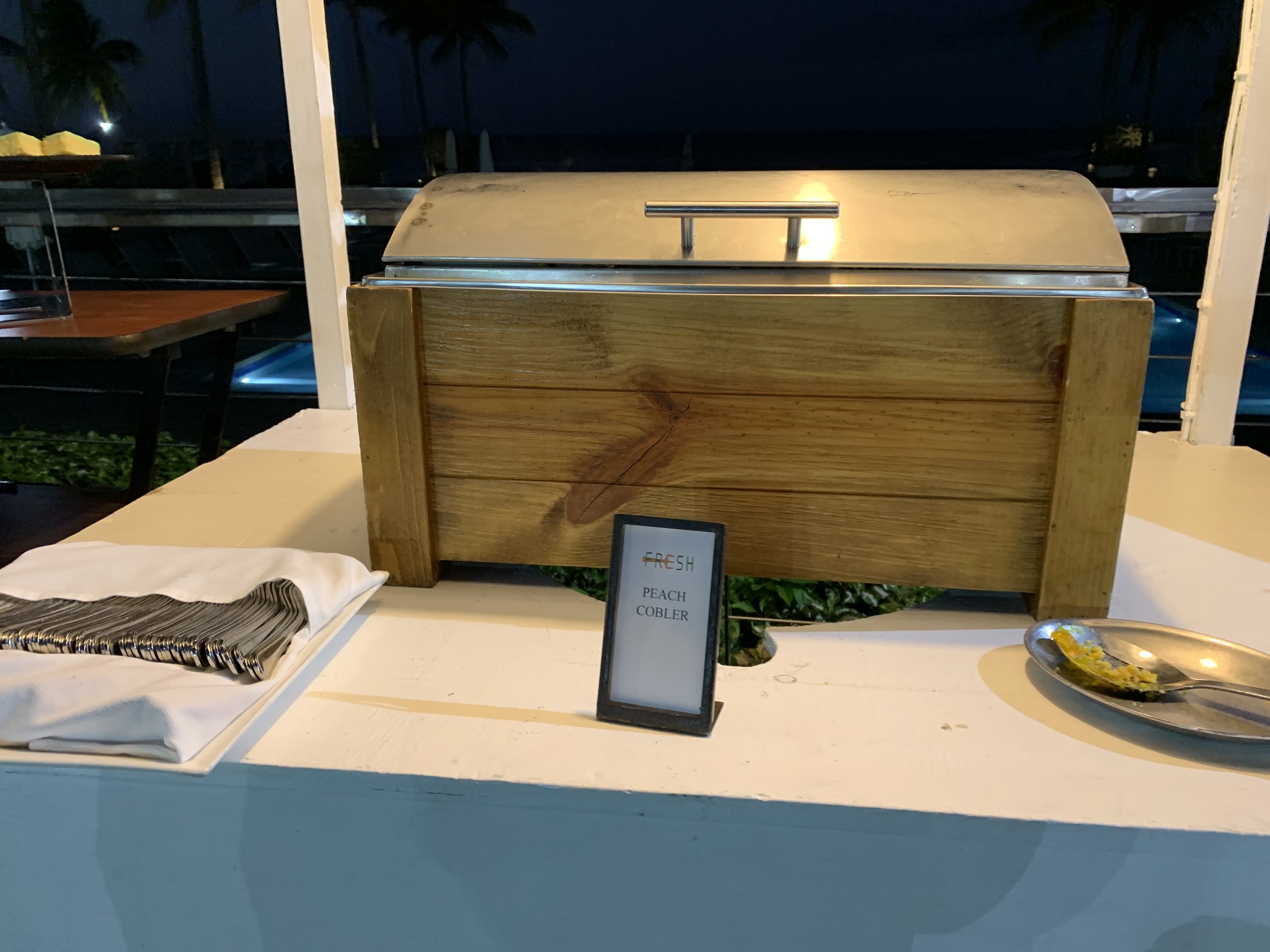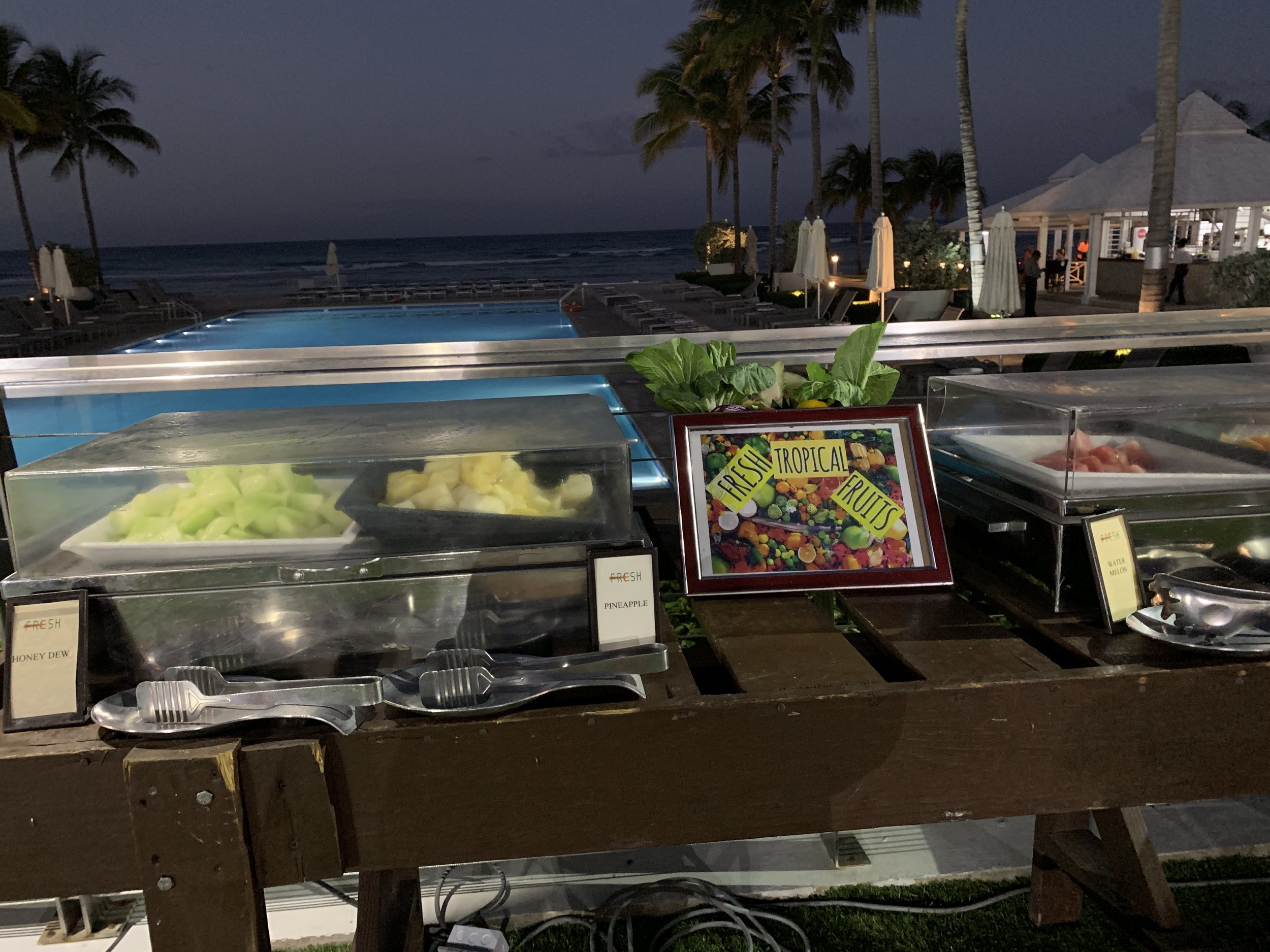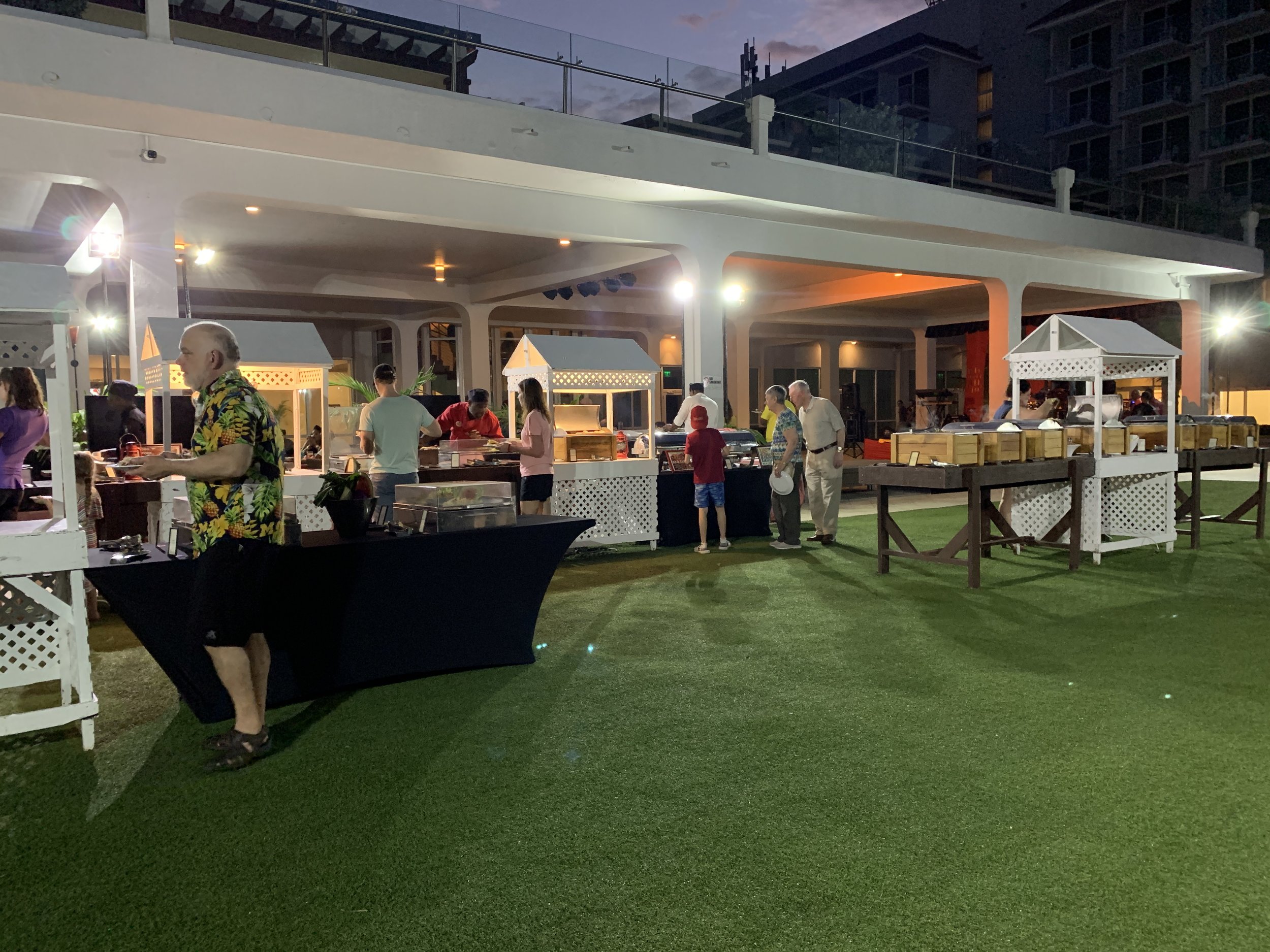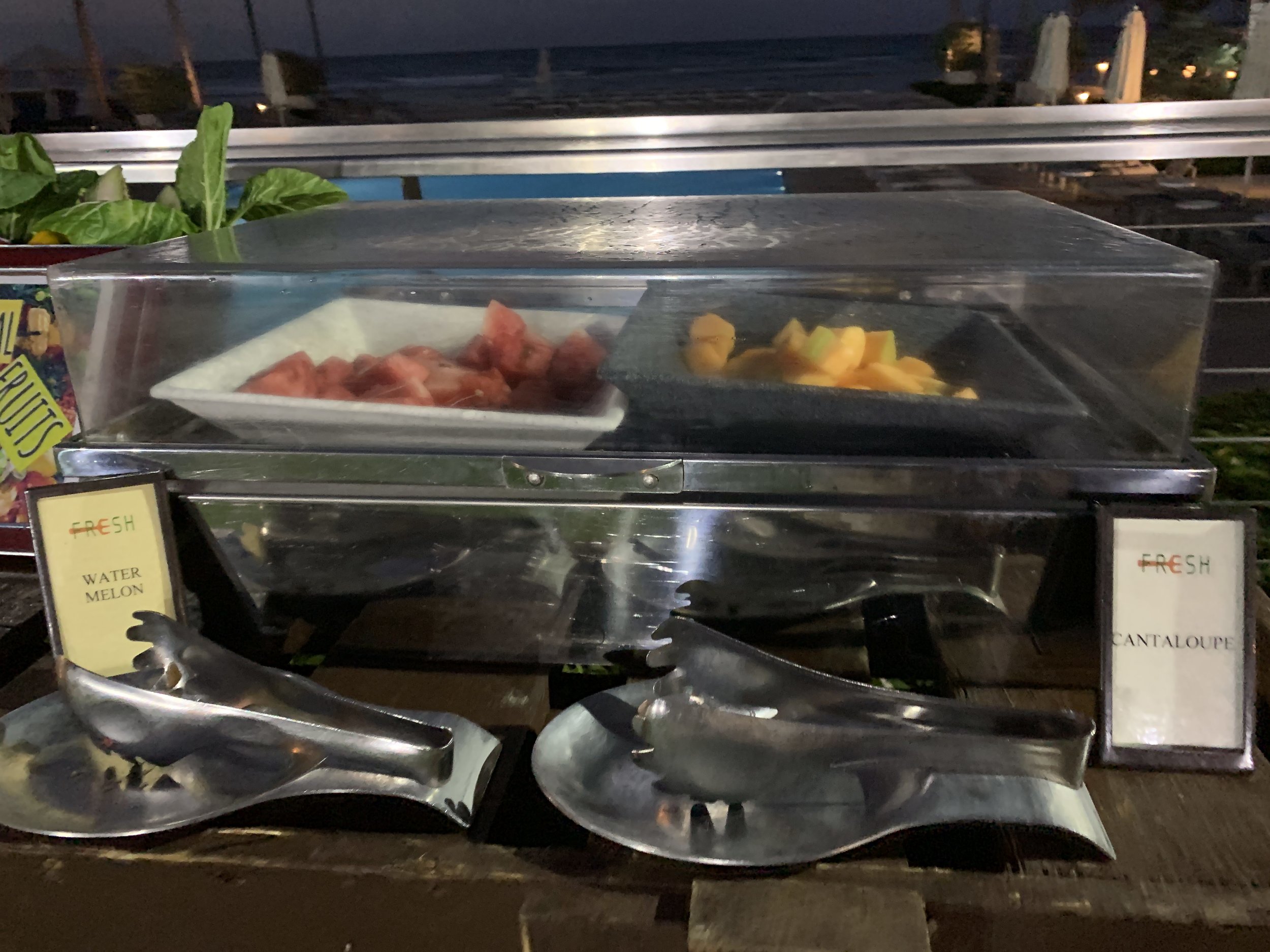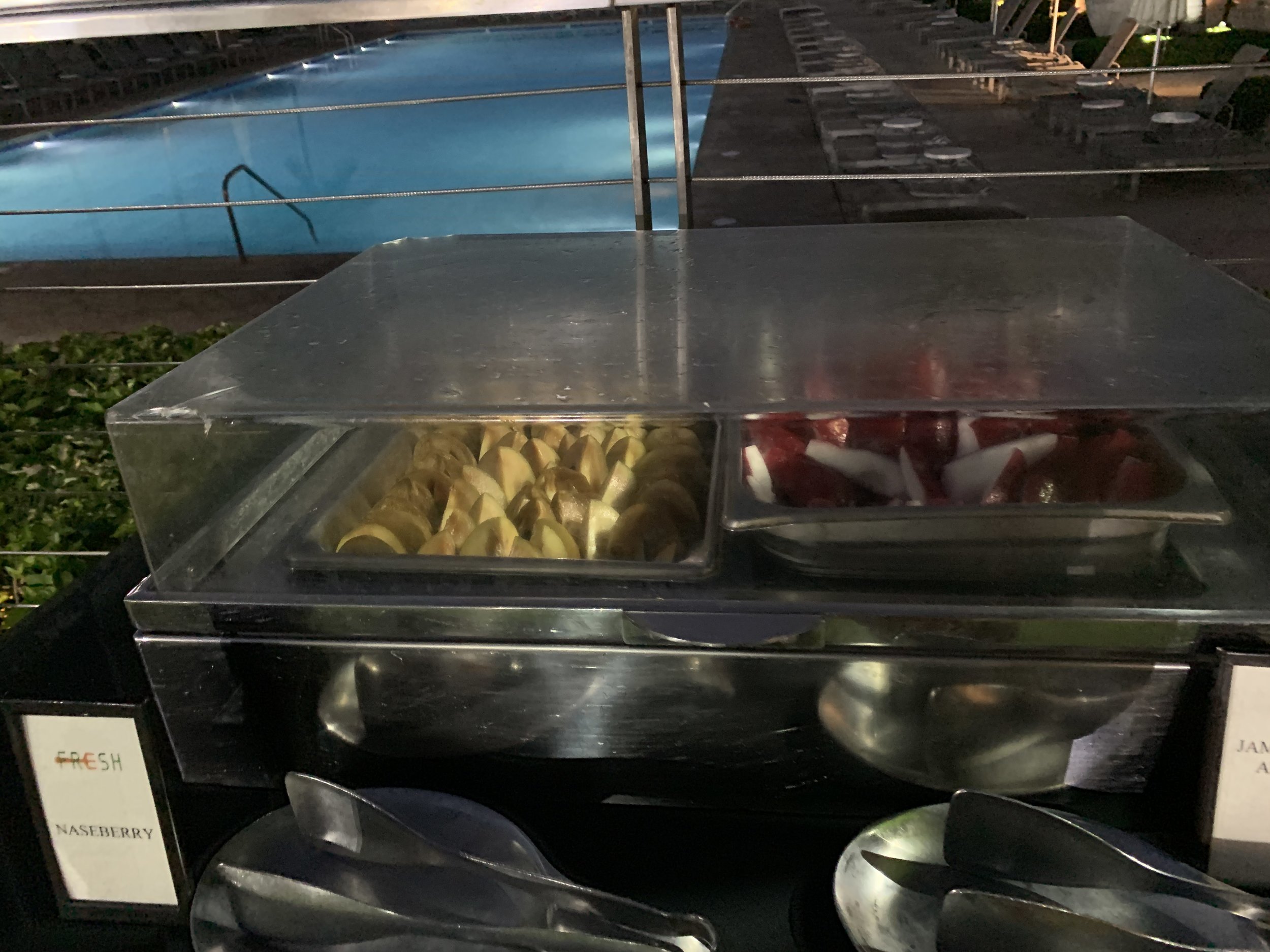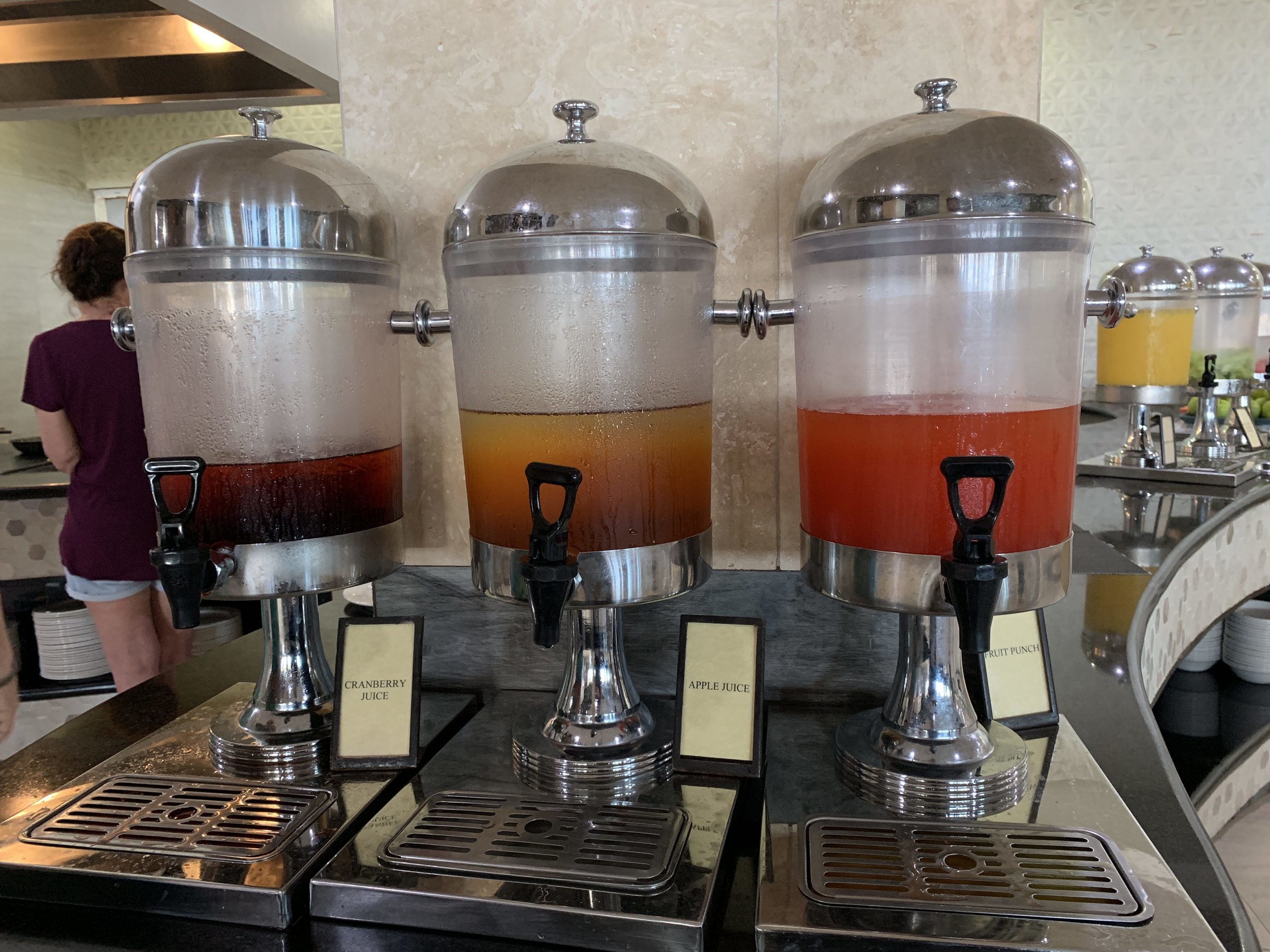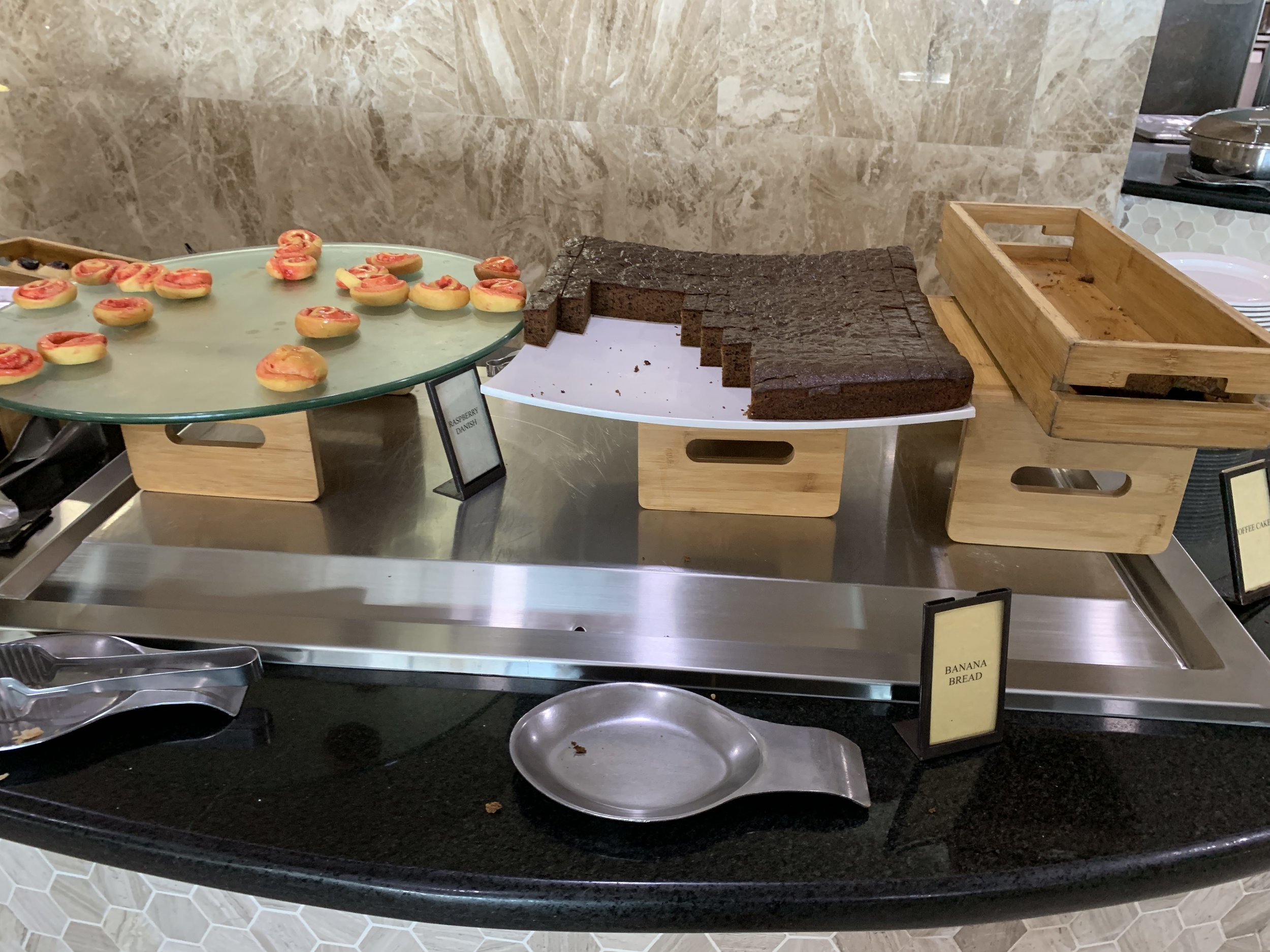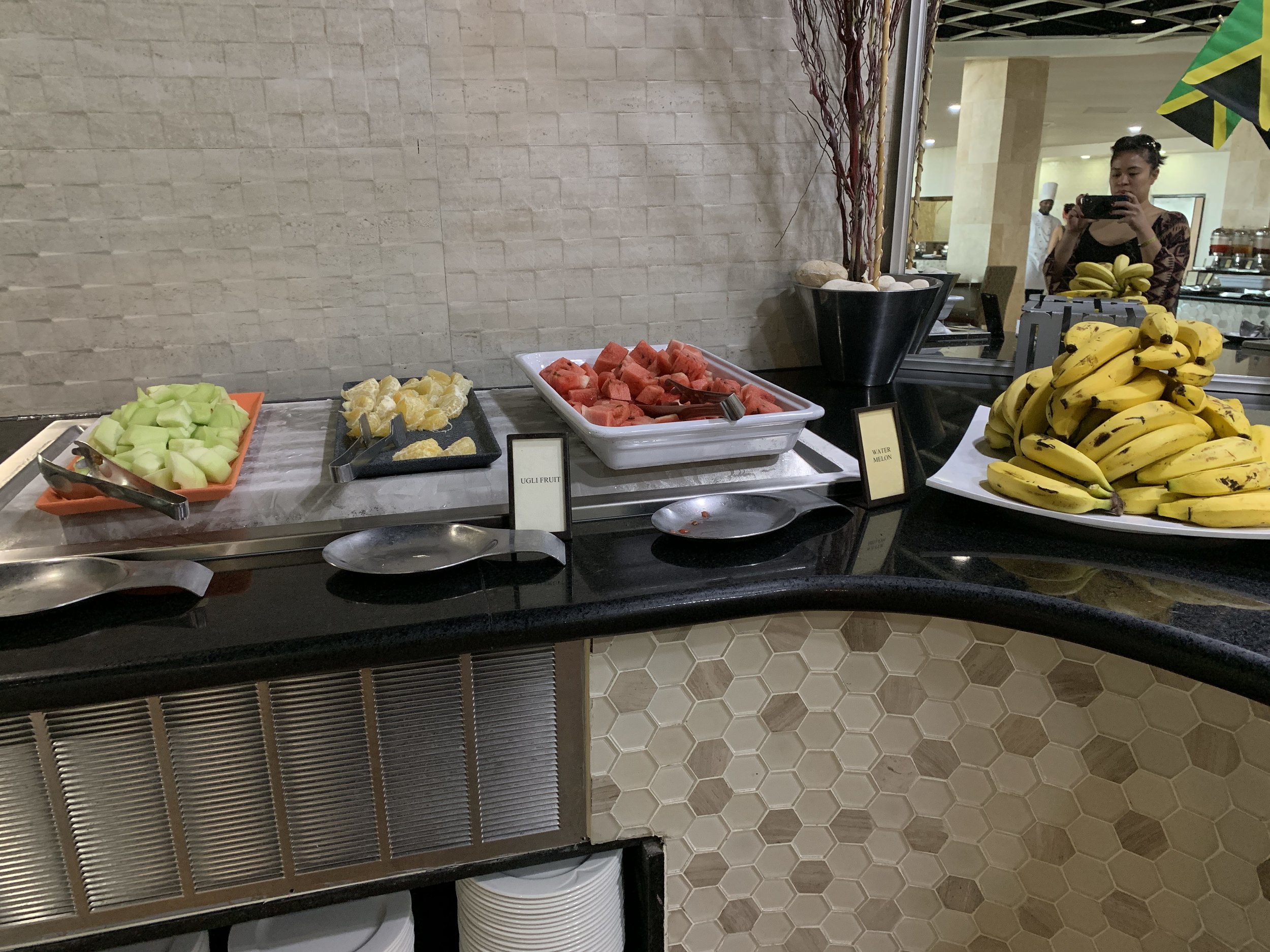 Seaside Grill - Lunch and Dinner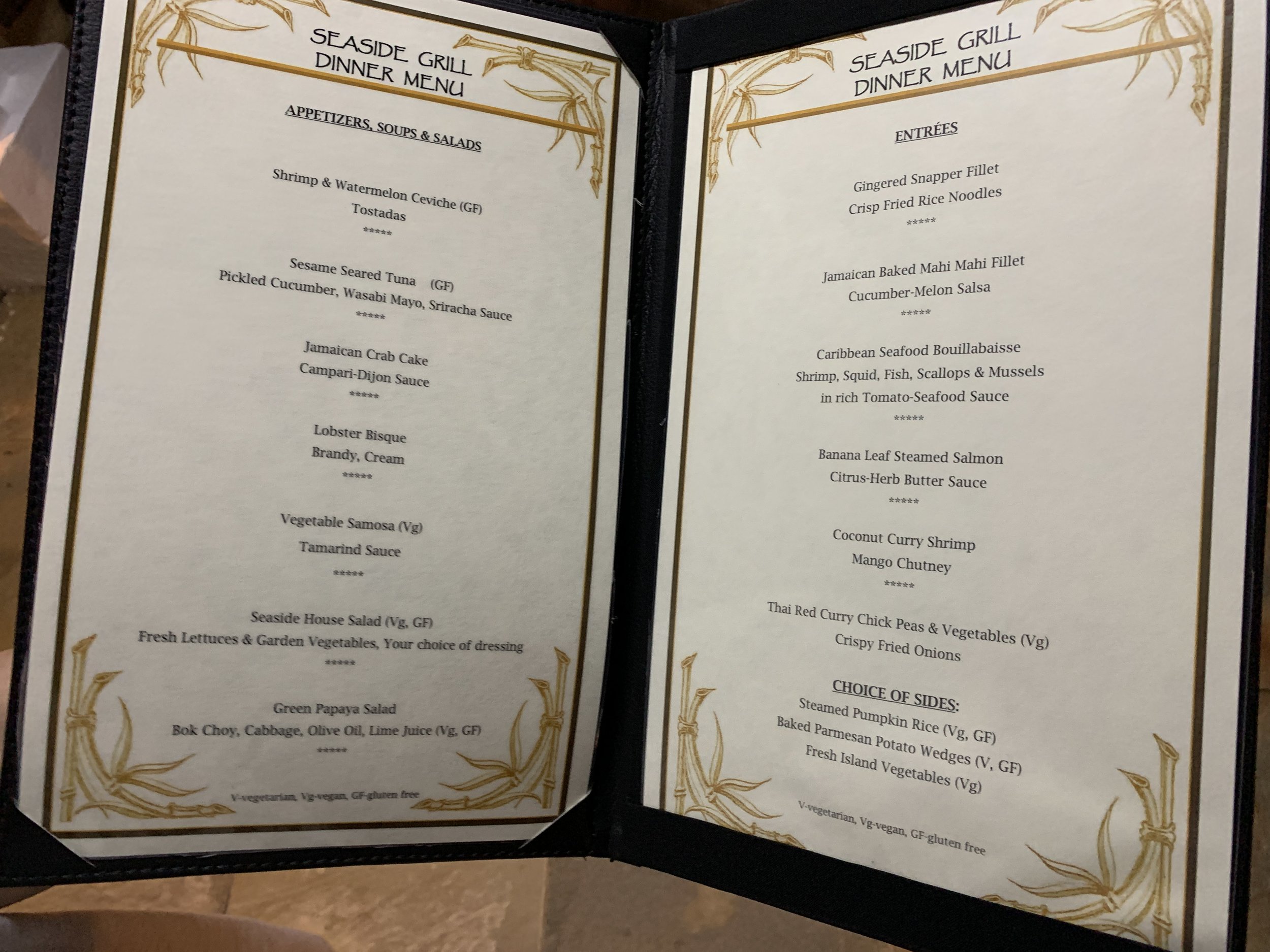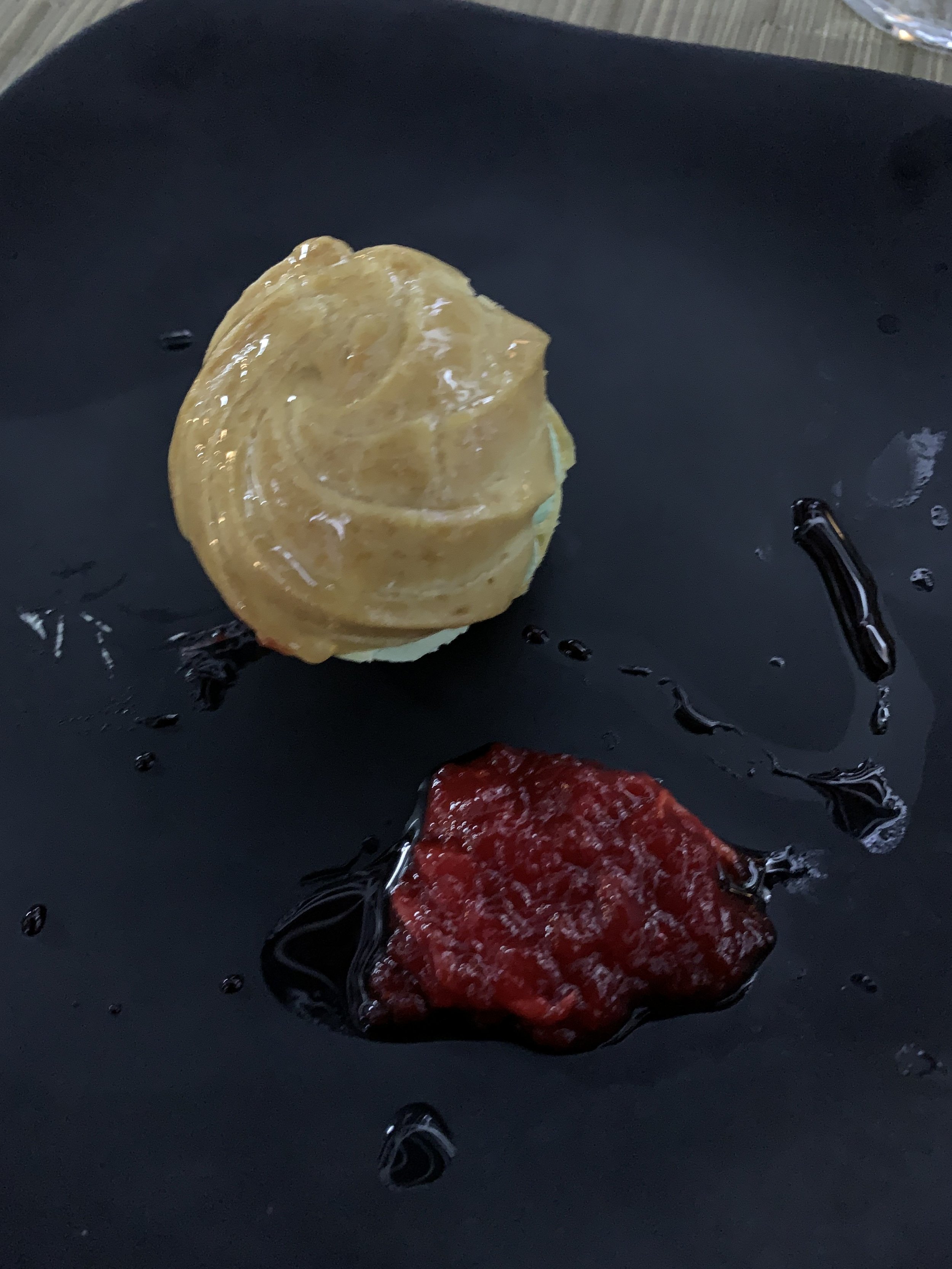 Three Palms
Ah yes, Three Palms. This is the "fancy" restaurant of the three. This restaurant had our best dinners. And by best, I'm talking Outback Steakhouse best. Take it with a grain of salt. They are not strict with the dress code. There's an array of attire from polo and shorts to suit and tie. Service was great.
The resort offers a shuttle service from the lobby to the restaurant. The driver is super nice and it's a short 5 min drive over to the golf course/restaurant area.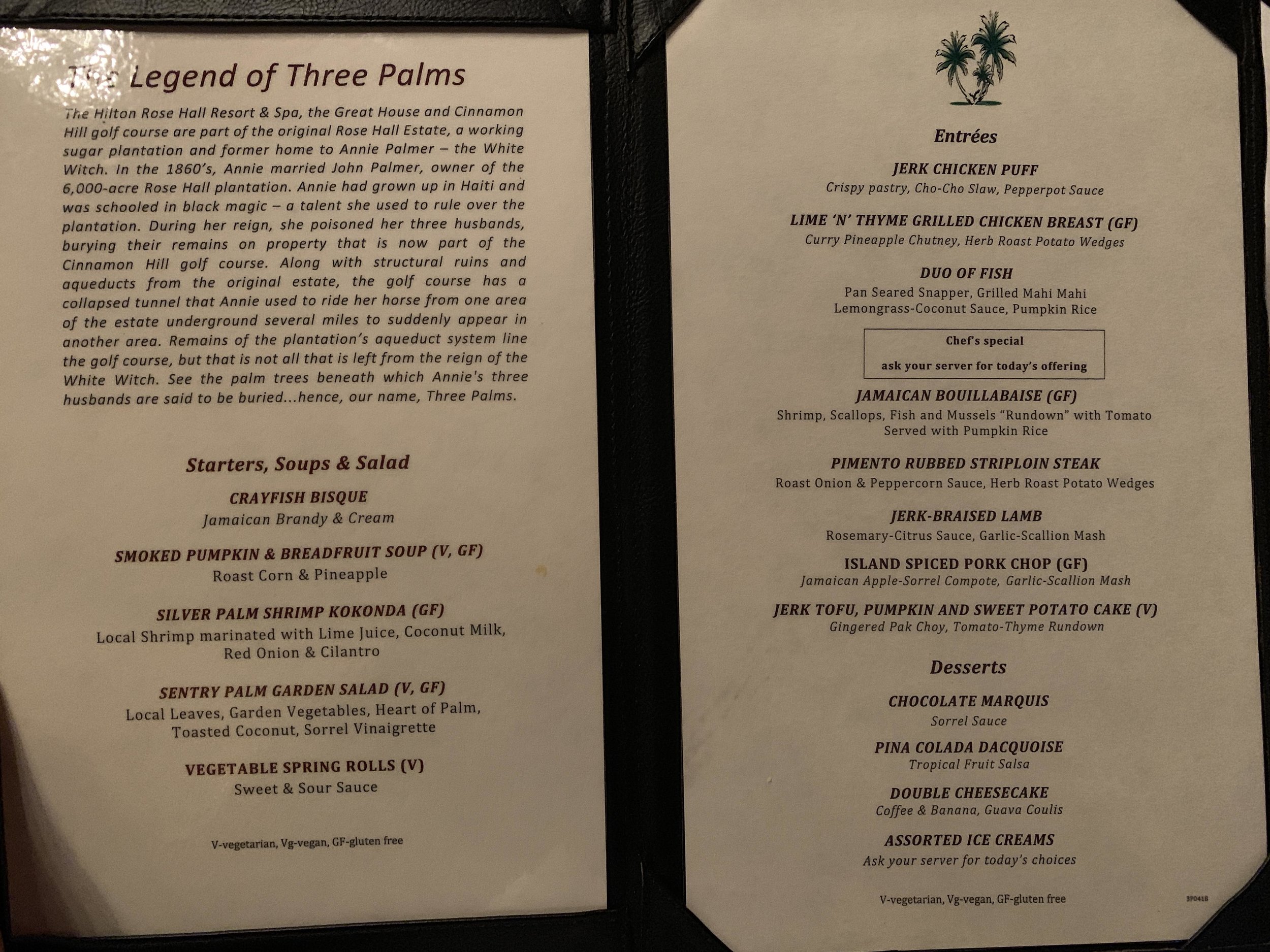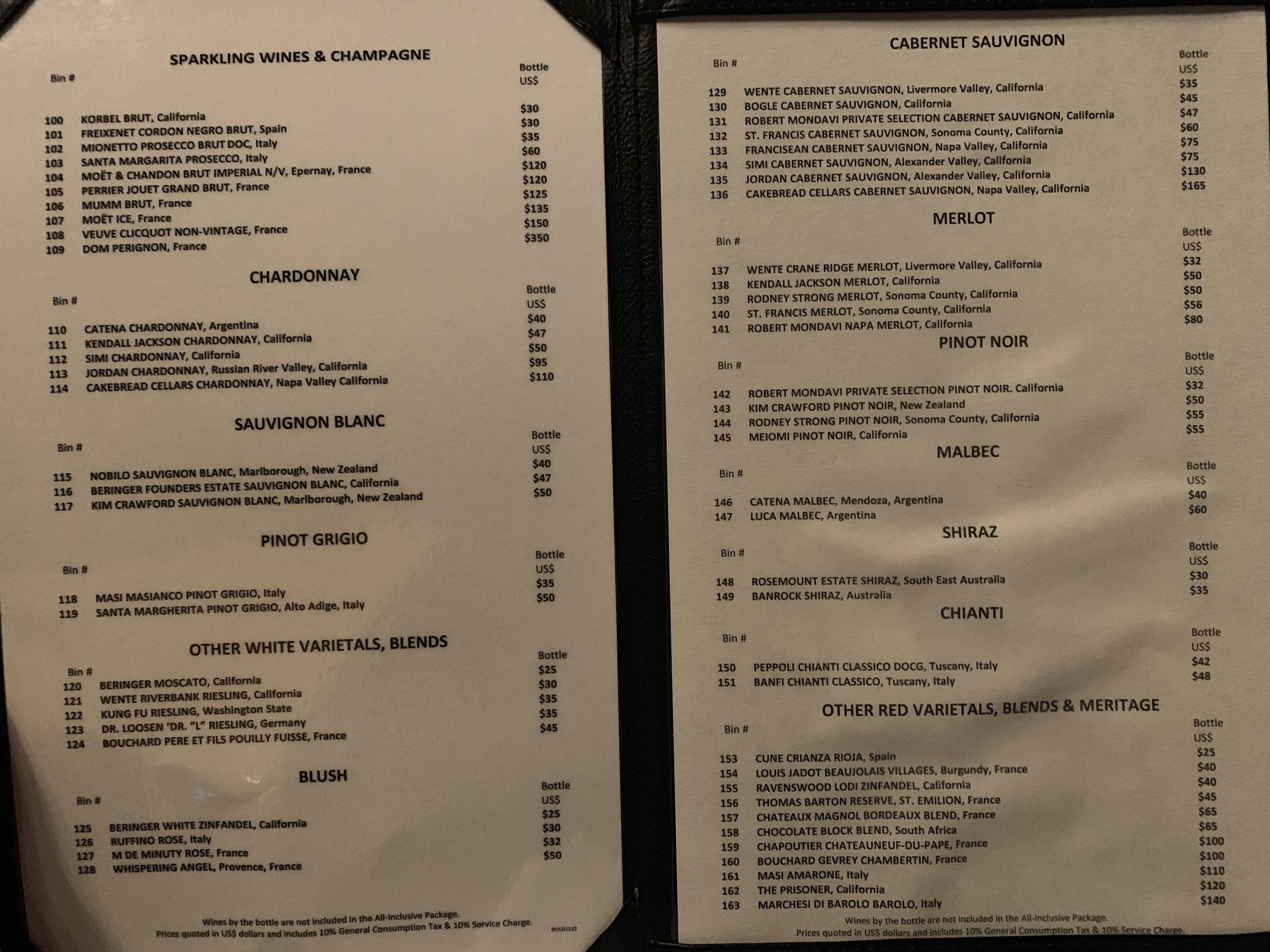 Mangoes
Quick service meal outside by the pool. They had some really good nachos and tacos. We loved the live music and island vibes. We actually really enjoyed the food at Mangoes.
Coffee Shop
The coffee and food here was a hit or miss. The service just the same. We loved the views and the blue mountain coffee. It seemed as if the coffee shop gets the buffet's dessert left overs after lunch and dinner. Since this is the only late night spot on the resort, they stock up with sandwiches and soup in the late evening after 9:30pm. These sandwiches were really, really, reeeaalllyy sad. Being from the west coast, we found ourselves hungry the first few nights and snacked on what we had brought from home.
The business center is also in the coffee shop. There's a desk with computers and a printer. When the blenders are going it seems a bit loud for a business center. I can't imagine anyone trying to actually sit down and work inside. There's a nice terrace just outside of the coffee shop that has nice views but not much shade.
Just a heads up, they go really heavy on the sweeteners and syrups.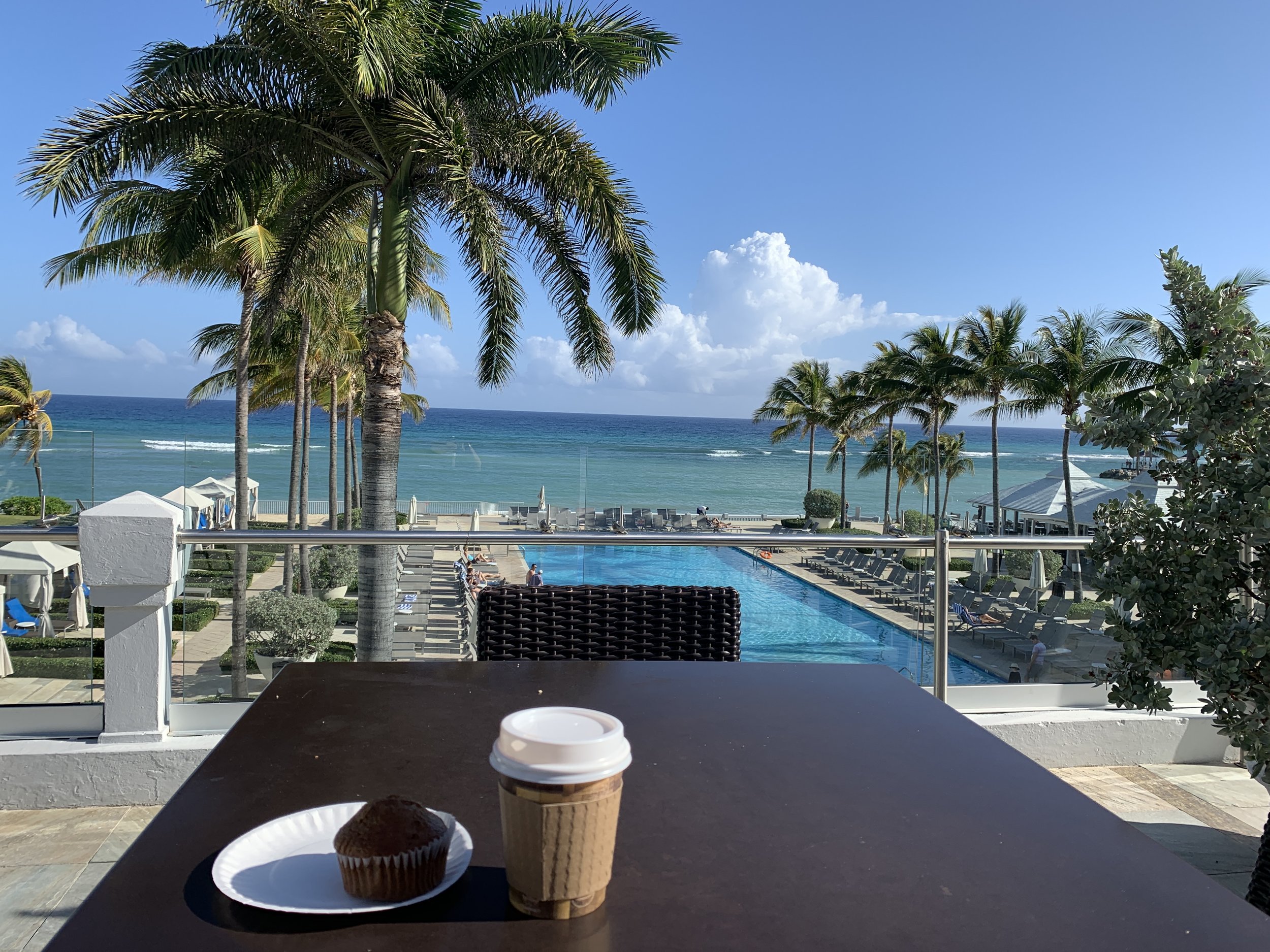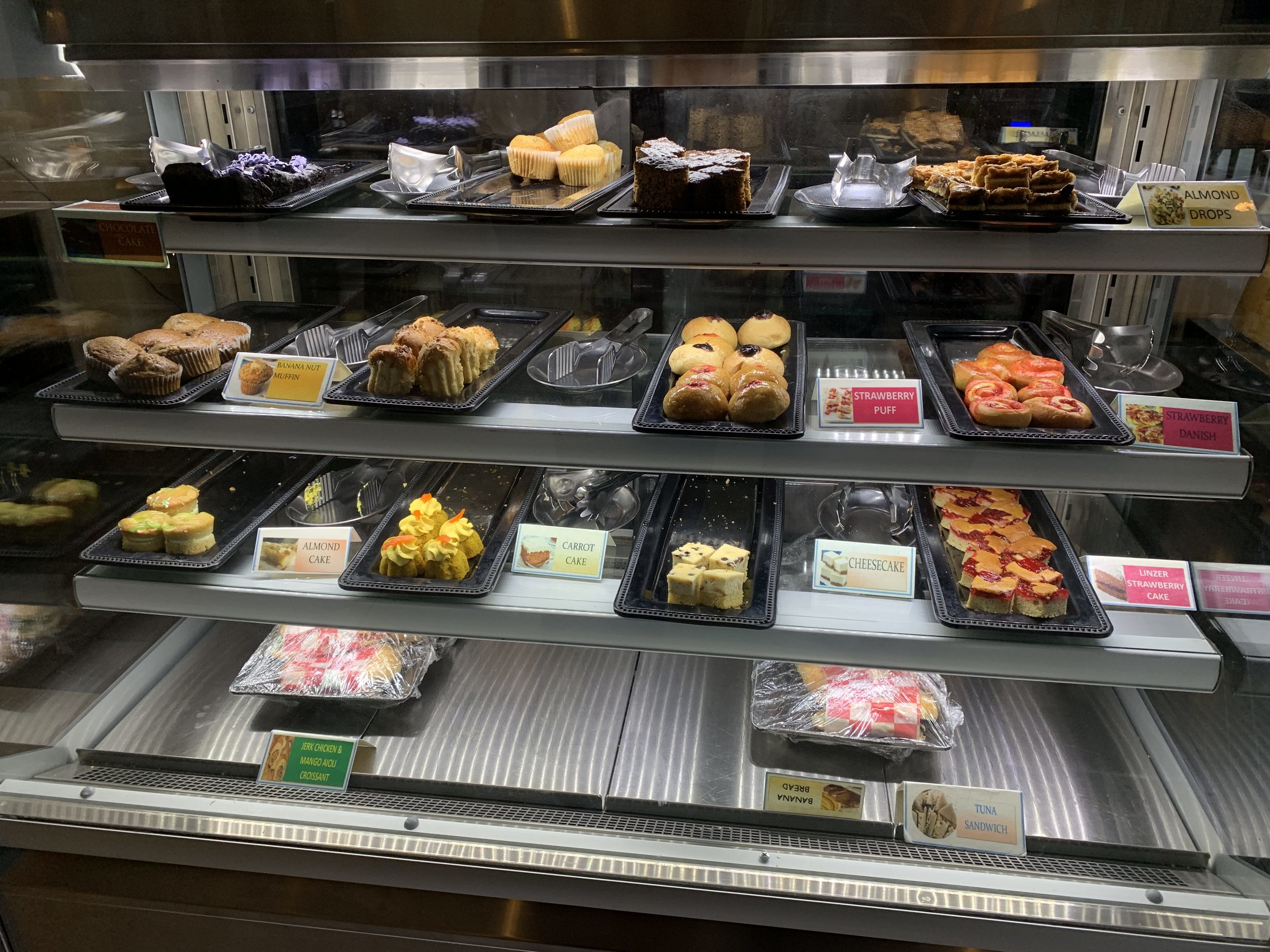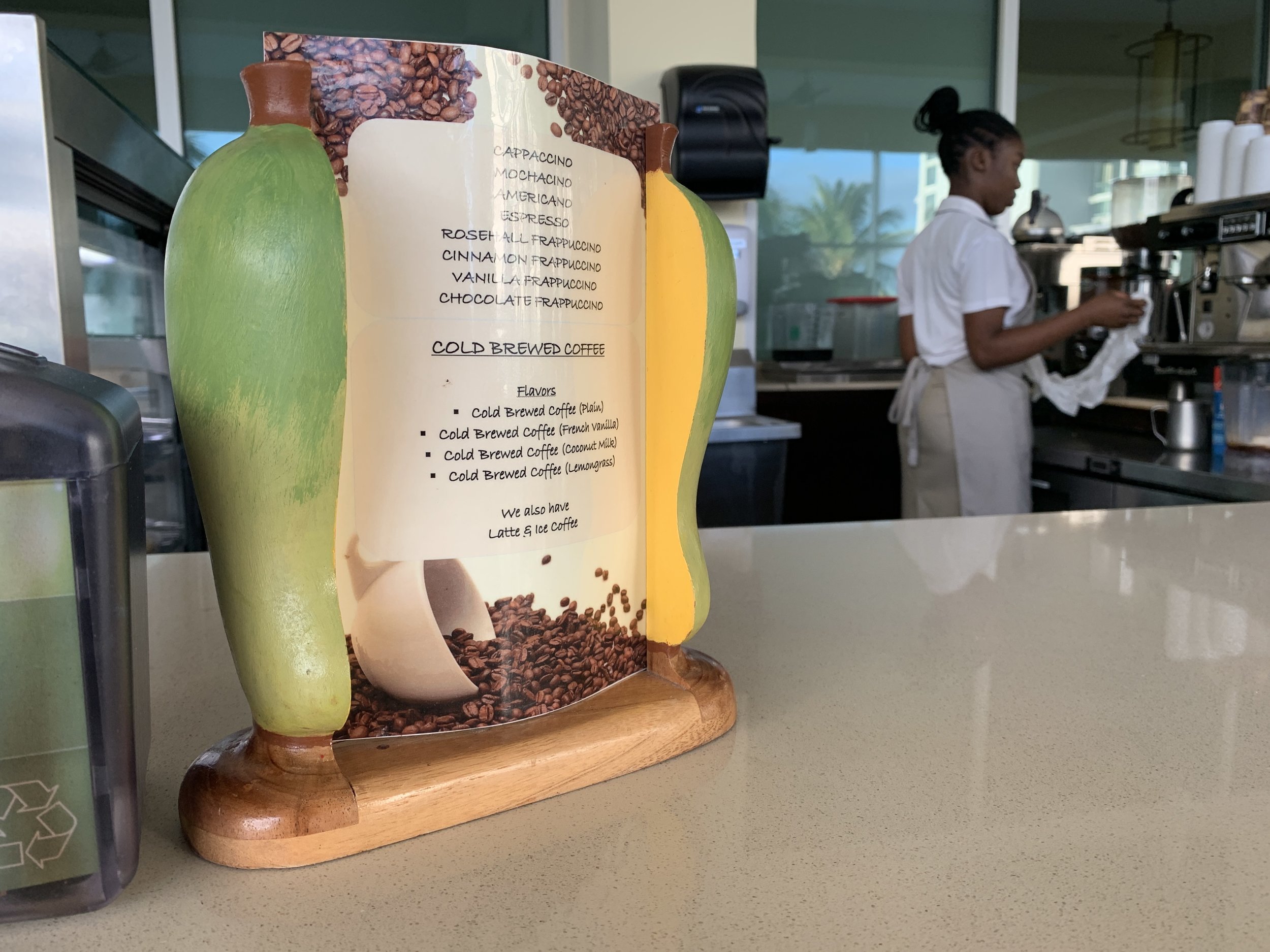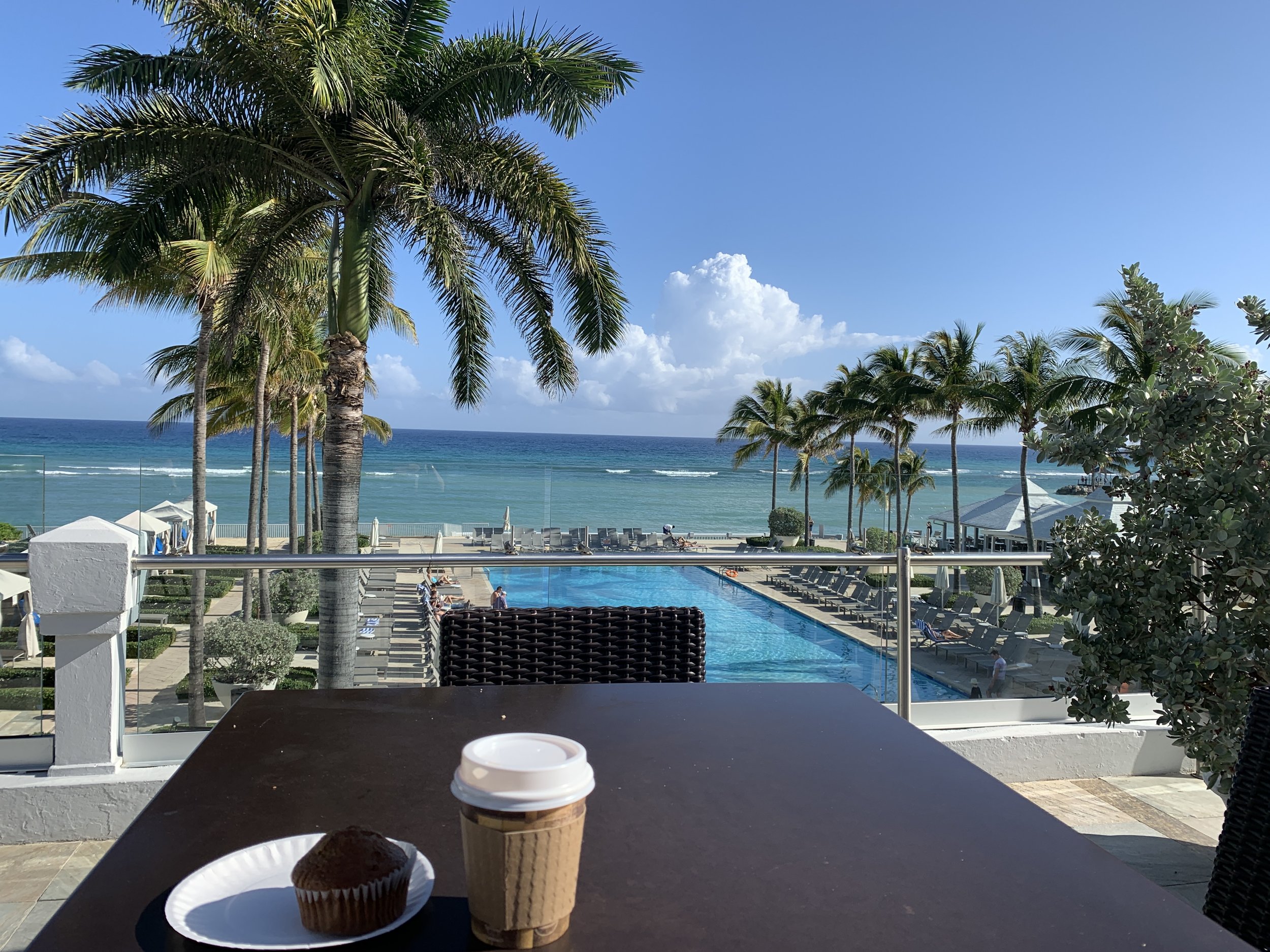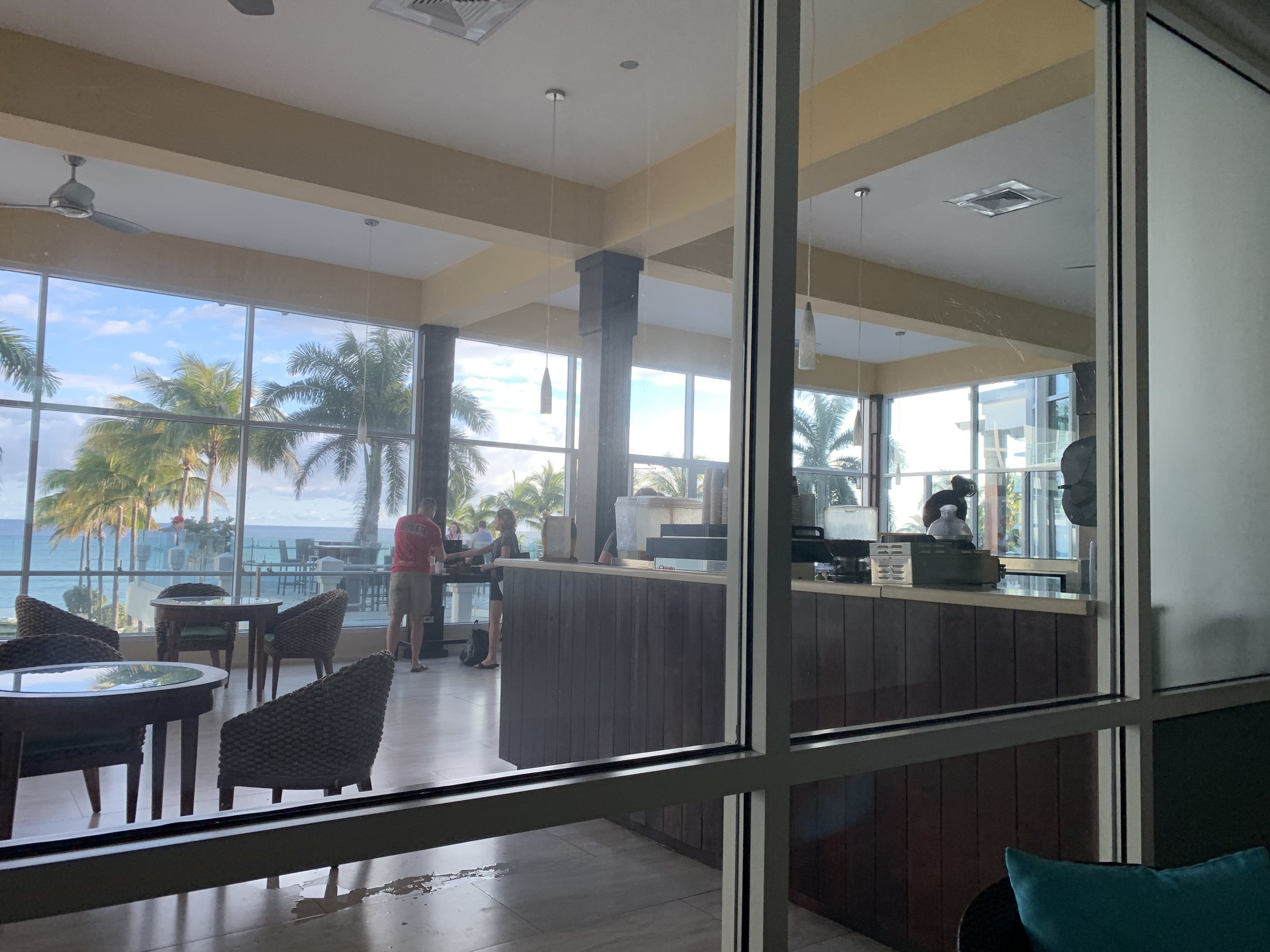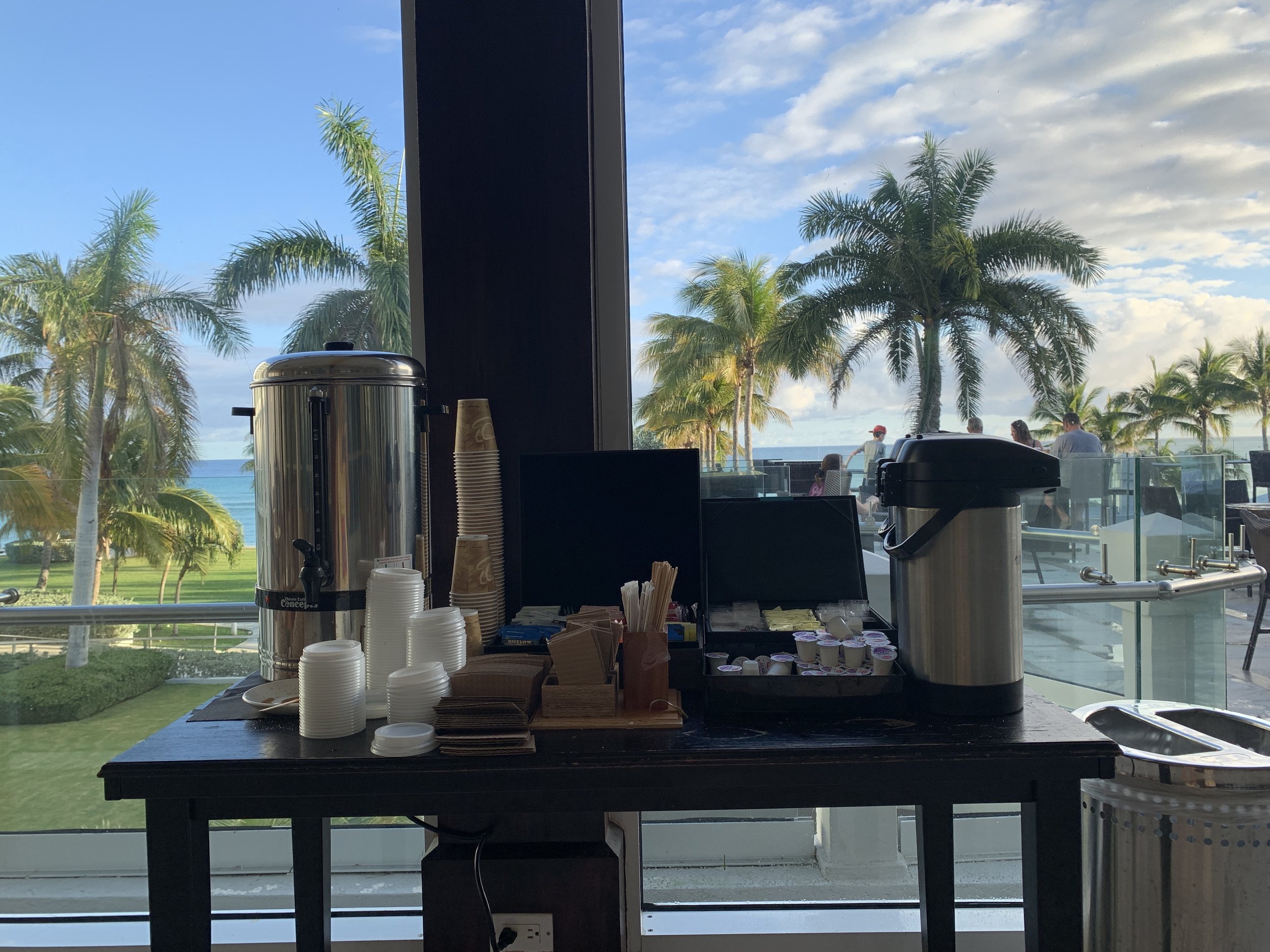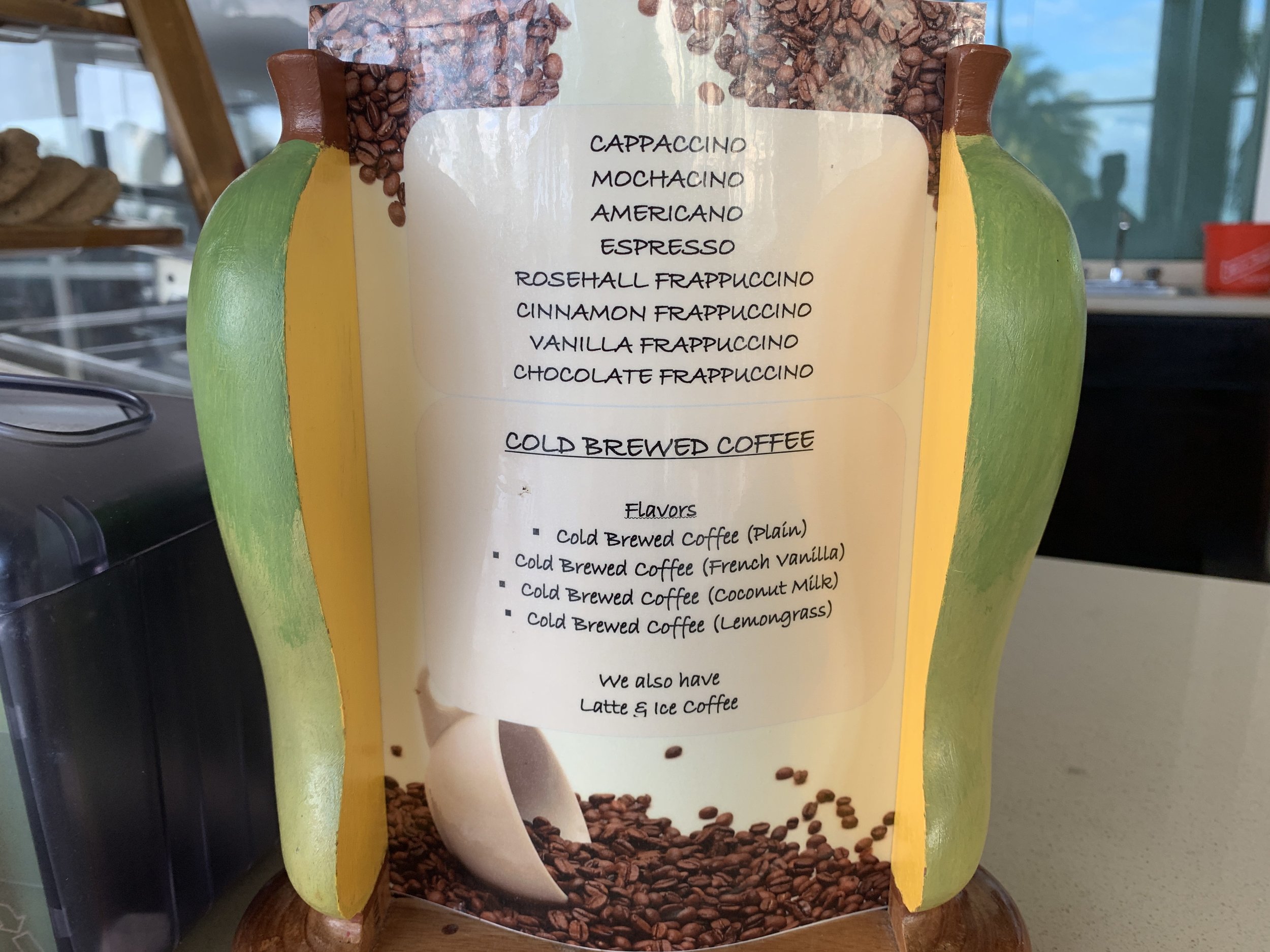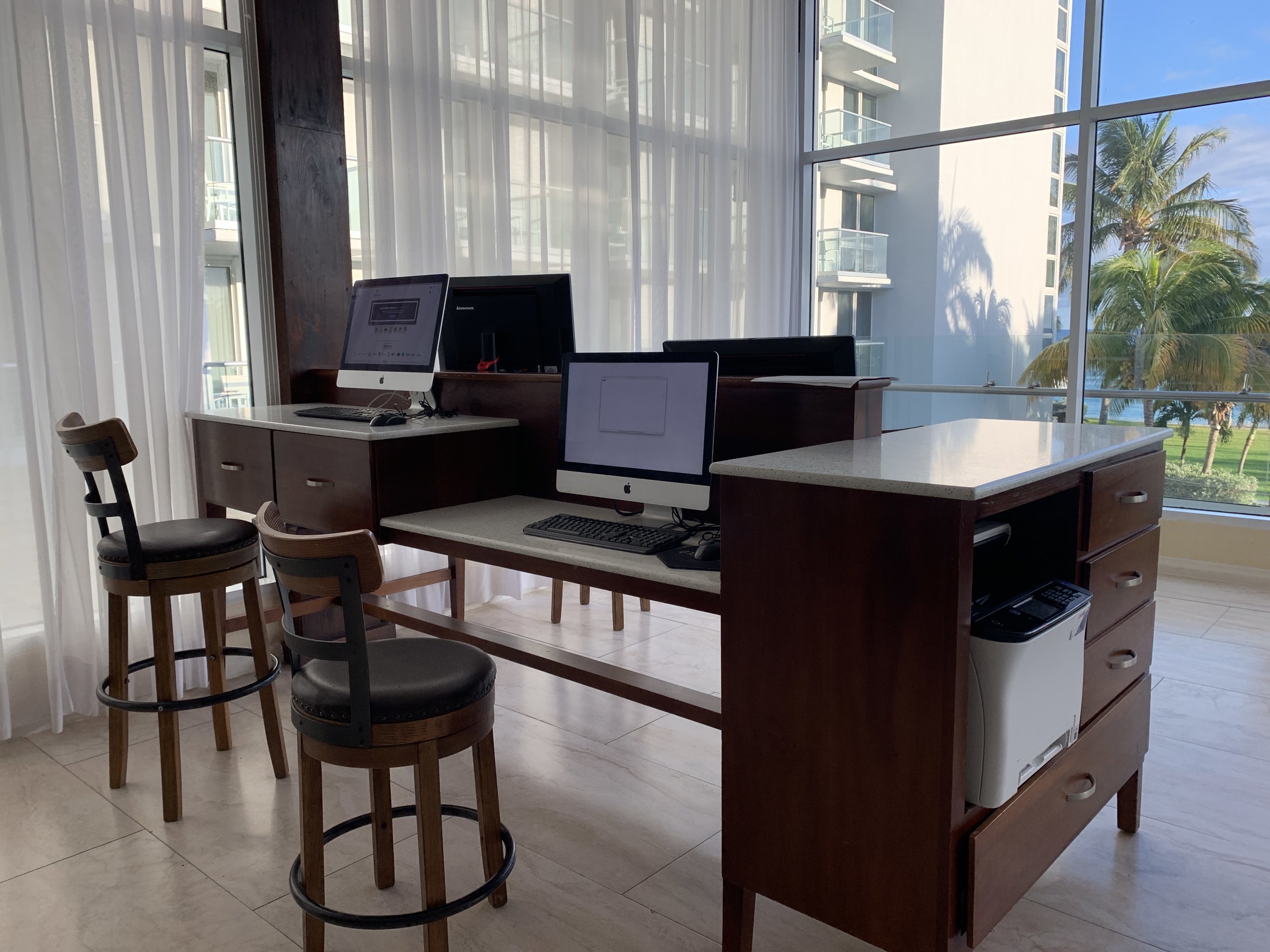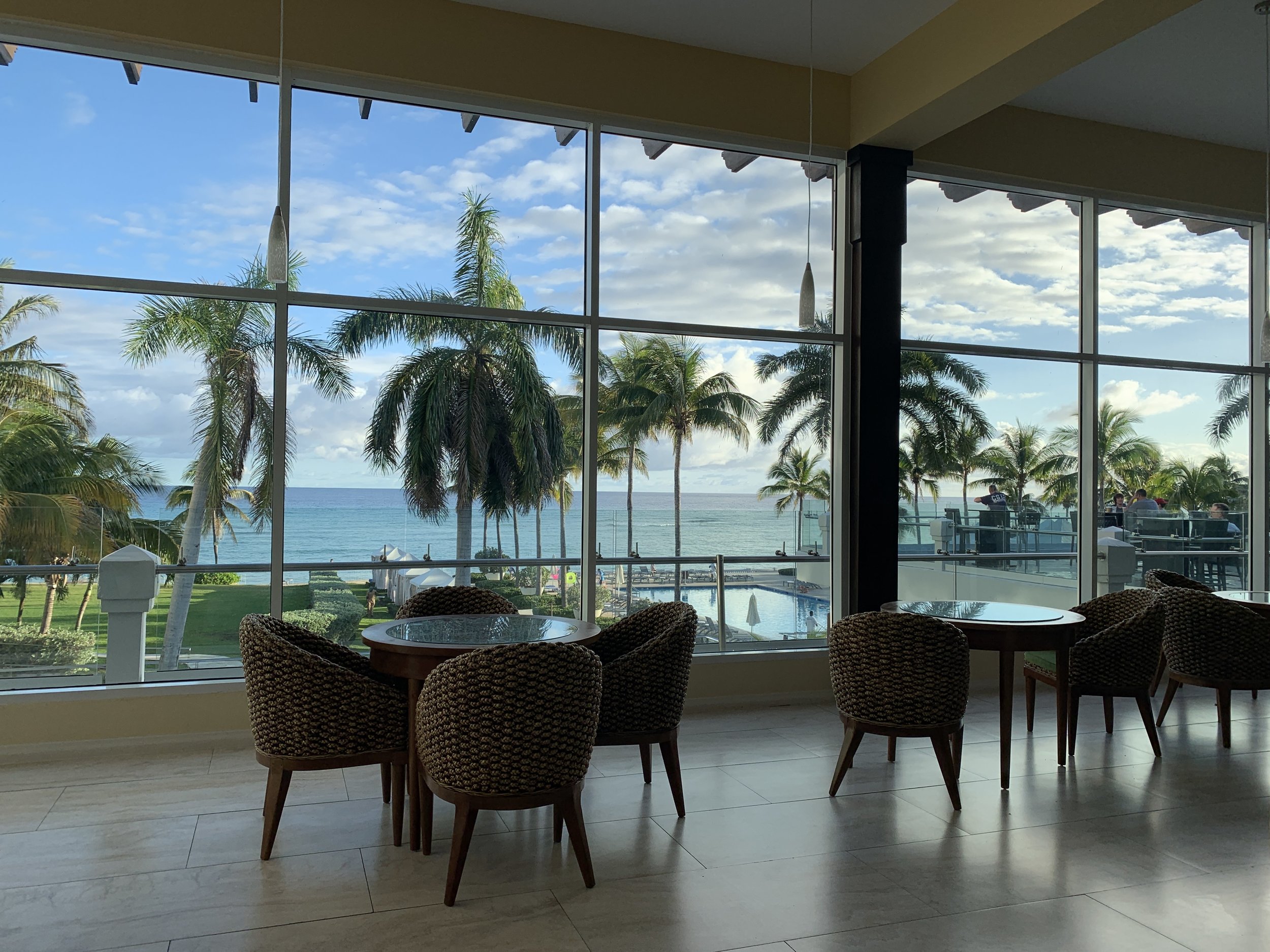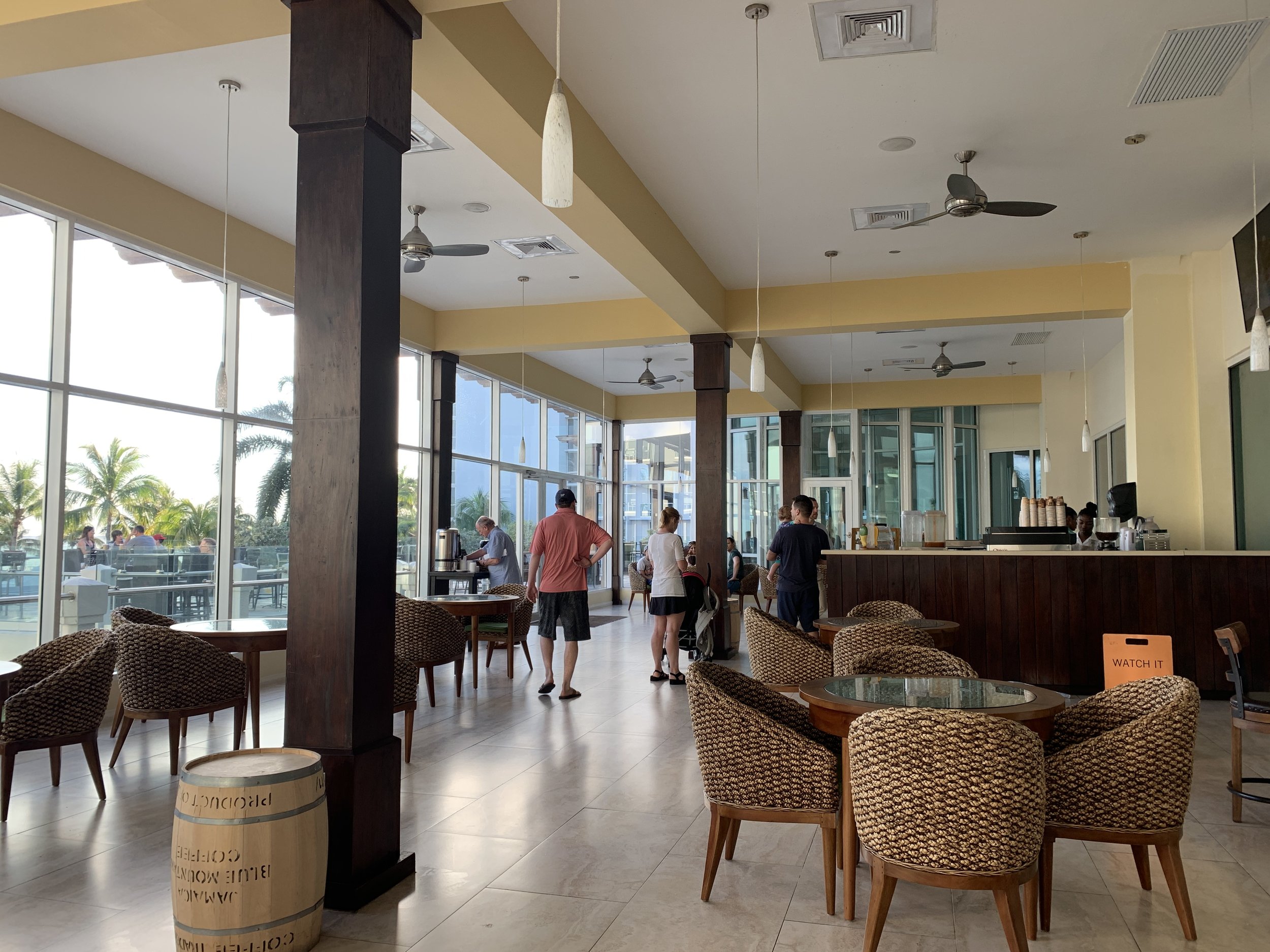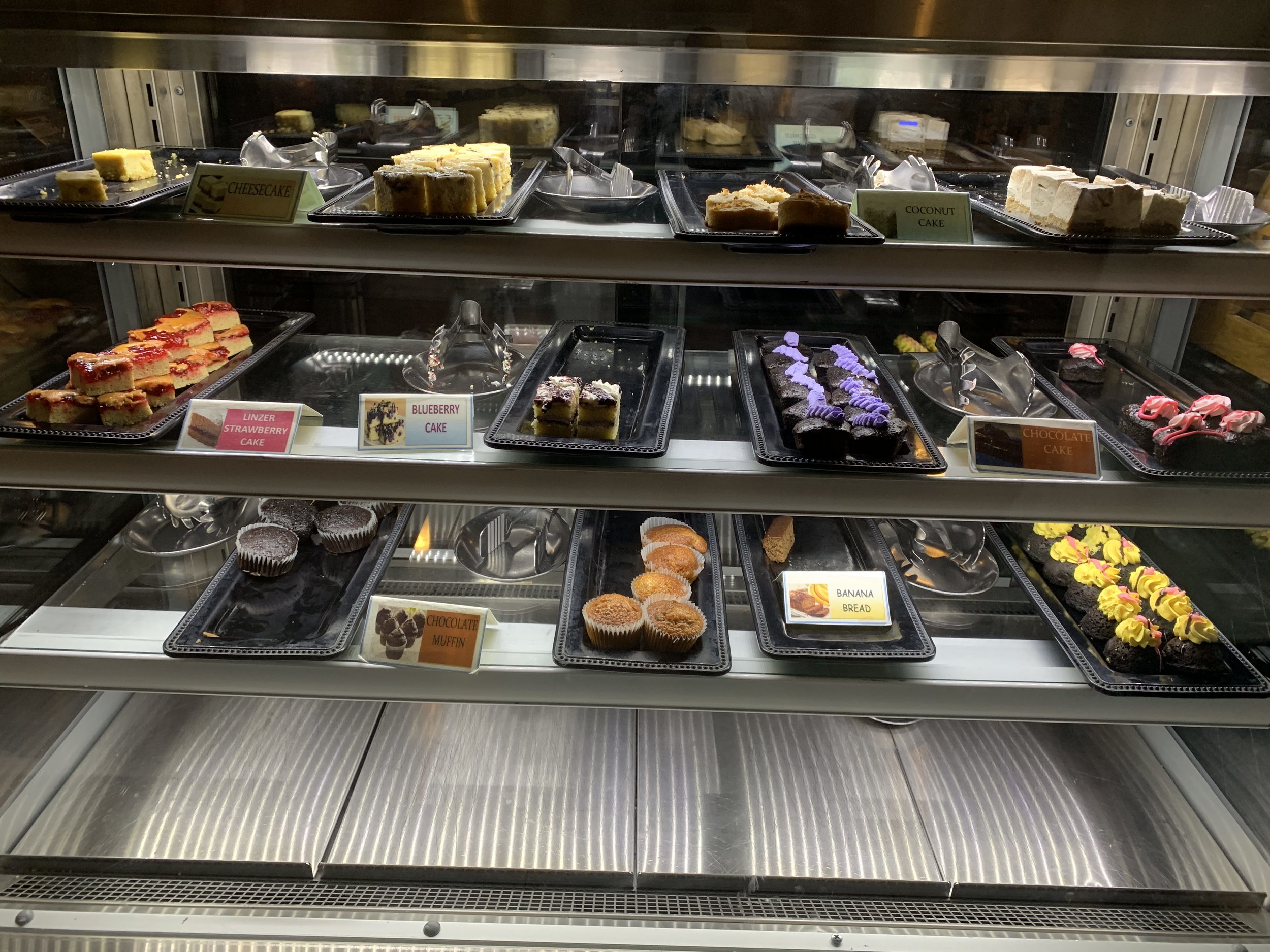 Activities
If you are on vacation to lounge, read a book, and full chill - this is totally the resort for you. If you are adventurous and can't sit still, this is NOT the resort for you. The resort activities is one area that can be dramatically improved and is probably a big reason why we were ready to go home by the fourth day. There were a very limited amount of daily activities offered and not much that was of interest to a young active couple as ourselves.
The activities board was manually updated every day and showed every once in a while on a TV screen in the lobby hallway near the gift shop.
Spa
While walking down the halls one day, I noticed a little placard advertising a spa deal. It was in my opinion, a decent deal, and made reservations requesting the deal as a little splurge for Valentine's day.
The Radiant Spa is located on the ground floor of the West Tower right across from the back entrance of the Fresh Buffet. It's easy to accidentally pass it by because at first glance, it looks like an office door but trust me. There is a spa somewhere in there.
I will be brutally honest, the facilities left much to be desired but there is a lot of heart filled with the great customer service from the spa attendants and staff. The facilities however were lacking. No dedicated hot tubs or whirlpools. No relaxation room or sitting room. Not even showers. Just a few treatment rooms, a changing room with lockers and a cabana looking building near the pools.
Upon arrival, we went to the desk where we were given a clipboard of paperwork. Basic info and medical questions and paper work to give the masseuses an idea of how to best help us. The process was fast and we were sent to the changing room. The changing room was small with about 10 keypad lockers. We stored our belongings in the locker and changed into robes. Then we were lead to the back treatment room.
Our massages were probably the best we've had in a long time. We are spa vets and as dancers, we take our massages seriously (haha… but forreal). Our masseuses knew what they were doing and had the just the right amount of pressure to alleviate our pains from travel and work.
So while the spa itself wasn't glamorous, we were very happy with our massages. Thank you again, ladies!
*Side Note: Since the spa didn't have a shower, we asked if we could take the robes back to our rooms. They said it was fine but we would have to bring them back immediately.
Dea: 6/10
Kevin: 7/10
Overall experience
Overall, we had a great time. Would we visit again? Yes! Especially with points and probably with a family. I'd say this is a great resort if you have little ones. You have everything you need here to keep a young one busy and everything pretty much shuts down by 10pm. Since this resort shuts down pretty early, this one may not be the best for teens and young adults. Also, there are very limited food options and the club is practically empty every night. You would need to go into town for late night anything.
Dea: 7/10
Kevin: 7/10