Hyatt Regency Orlando International Airport - Review
The Hyatt Regency Orlando International Airport is located right inside of the main terminal and provides easy access to restaurants, shopping and the airport terminals.
Now, while it may sound like a very loud experience, it's actually really nice and kind of a trip. The hotel itself does a great job with masking the chaos and highlighting the beauty of the experience all at the same time. Big bright windows with epic sunrises and silhouettes of planes taking off. Top notch service and modern up to date rooms and a commute to the airport that can't be beat. I'm just going to say it now, we would happily book this hotel again in a heartbeat. Here's why:
The Hotel:
This Hyatt Regency really lives up to its name. From the moment you take the escalator up to the lobby, you're transformed from the chaos of an airport terminal to the calming peace of Hyatt lobby with a smiling Hyatt Front Desk representative welcoming you. Awesome.
The hotel itself does an impeccable job of making you feel like you're not inside of an airport. Surprisingly, the noise wasn't an issue for us. The hotel is clean and well kept.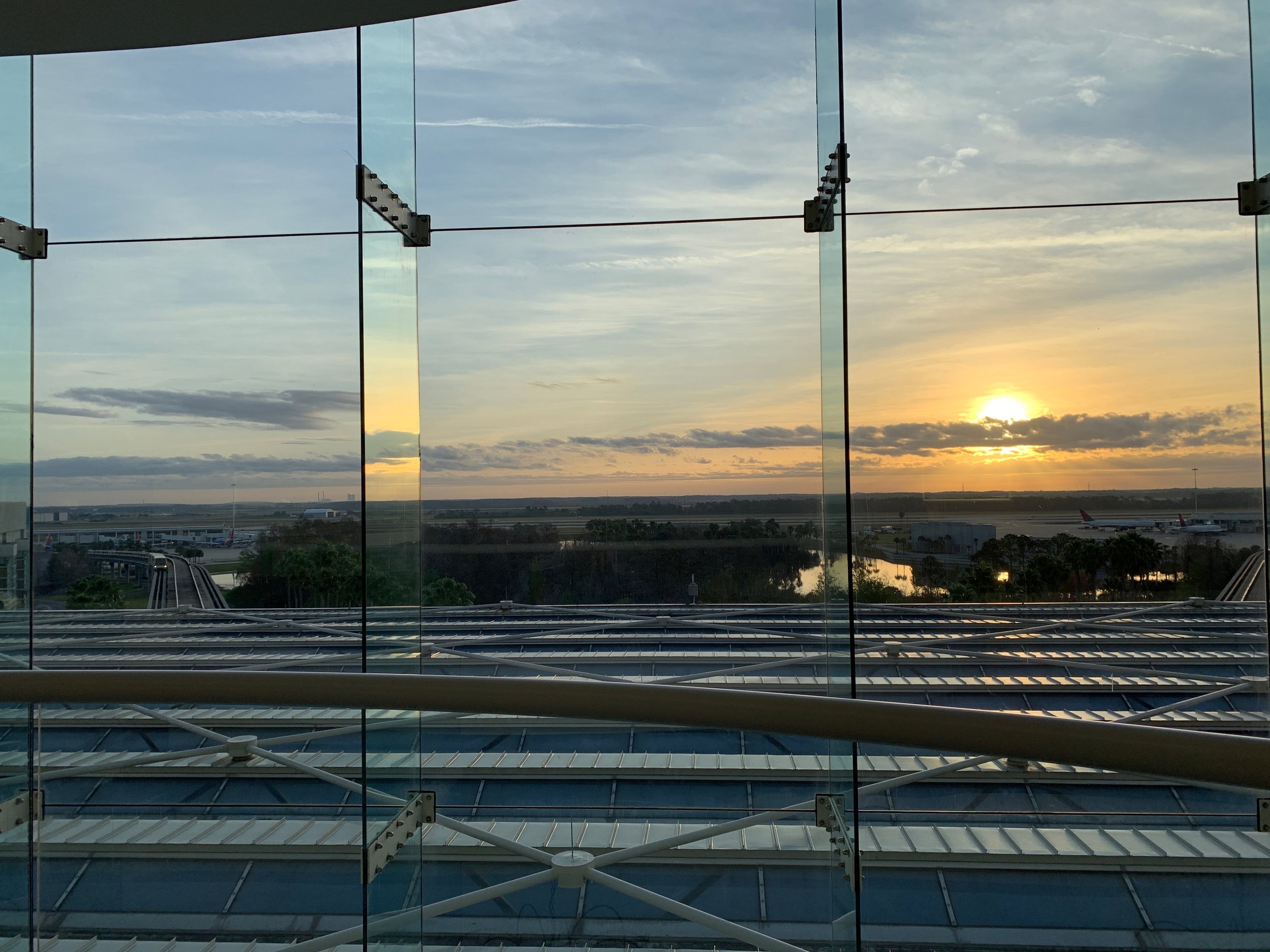 One thing I really did appreciate was the guest key card scan in the elevator to access the guest rooms. This made us feel safe, especially since this hotel was inside the airport.
The hotel was in the middle of construction during our stay, and it really showed. The entire 6th floor was under construction, as you can see in this picture. While it wasn't too bothersome noise wise, it was a bit of an eye sore.
Dea: 9/10
Kevin: 9/10
The Service:
For me, service is everything - especially in a 4 star hotel and I'd have to say that this Hyatt really shined.
Our experience was beyond fabulous! From the front desk, to housekeeping, to in-room dining - every person we spoke and interacted with handled us with extreme care.
We called Housekeeping for a few items we had ran out of while on the road and they arrived so fast and were so quiet when they knocked. We found our items hanging off the door handle in a small black bag. Nice touch.
We even ordered room service from McCoys and the service was great. They made a small mistake on our order and they fixed it within minutes, no questions asked.
Check out via phone was a breeze. Very kind, and welcoming and checked in with us to see how our stay was.
Dea: 10/10
Kevin: 8/10
The Room:
It's all about the details. Every little detail was carefully thought of in the newly renovated rooms.
We stayed one night in room 7109 on the 7th floor and we were so impressed! The overall design of the room was modern, ergonomic and space saving.
Everything you would expect to be in a standard hotel room was there: hair dryer, tv, phone, coffee maker, safe, refrigerator, and beds. What really stood out was how new everything was.
Everything was up to date and so clean. The TV was massive with on-demand and regular channels. There were USB charging ports and outlets scattered all throughout the room and easily accessible in the desk and night stand. The lights above the bed had switches on both sides. NICE.
We had a great sleep on the bed. The sheets were super comfy and the mattress was phenomenal. We also love and appreciate the black out curtains. I personally have a hard time sleeping with light in the room and so this was great when the day broke through.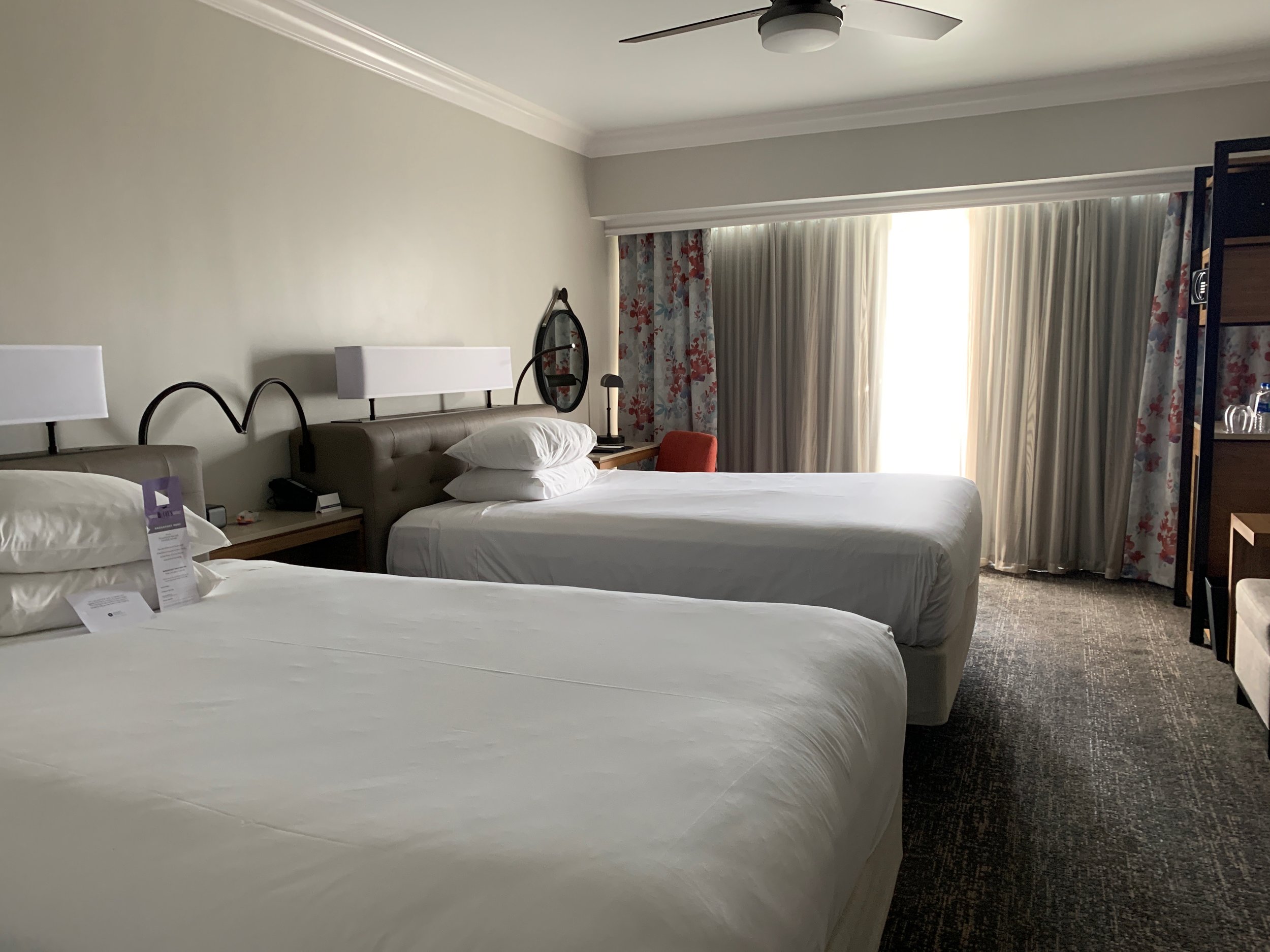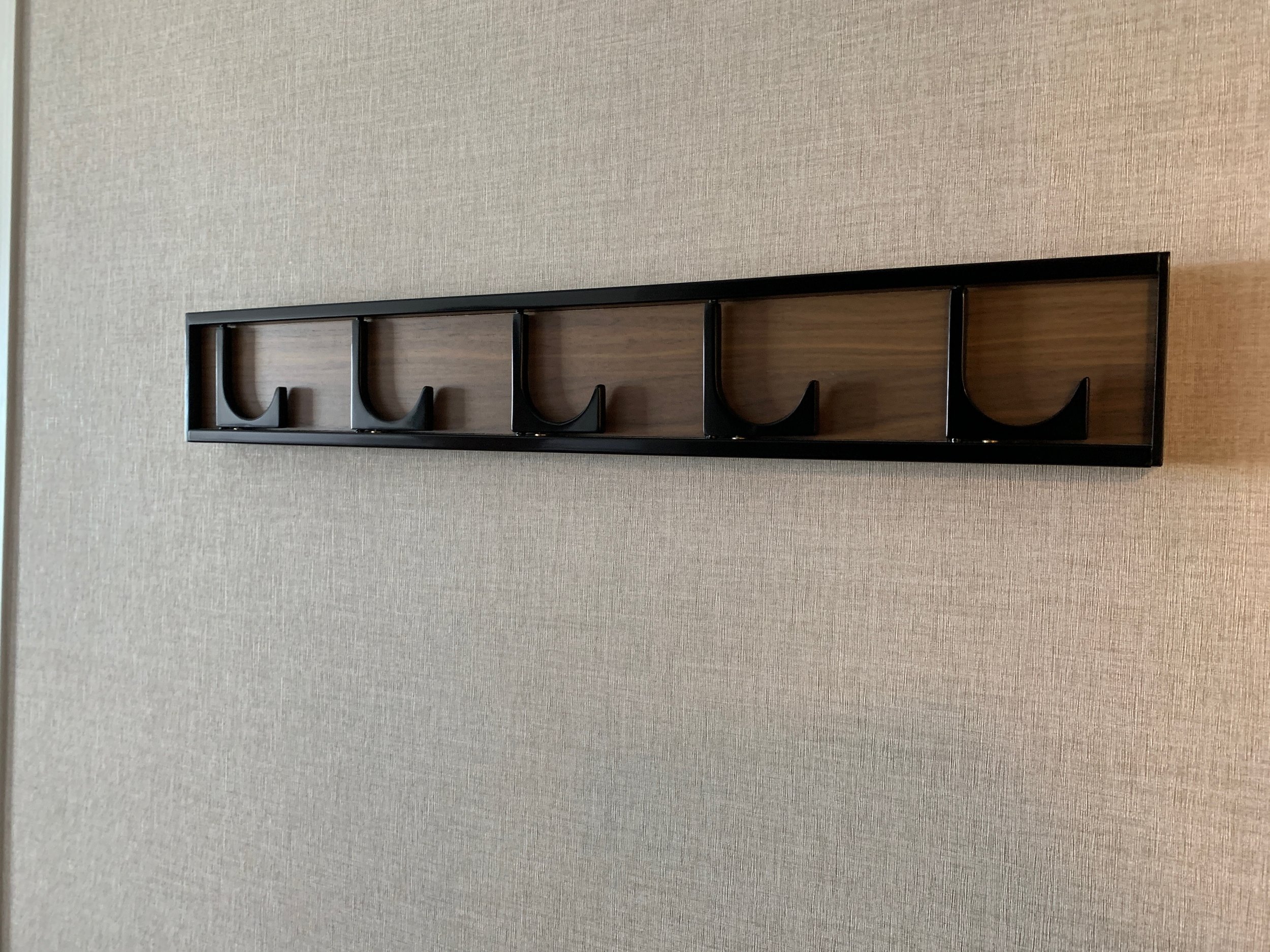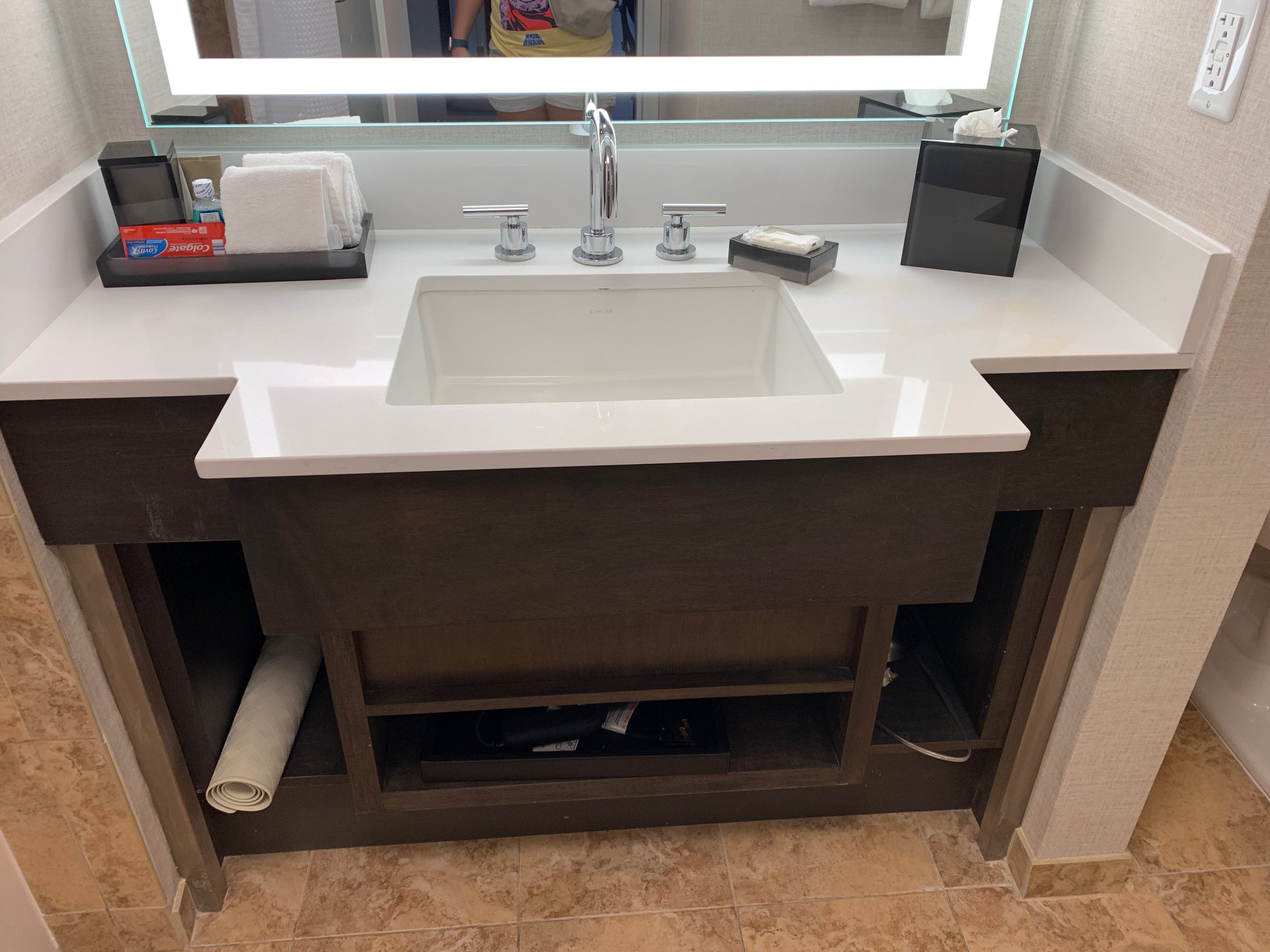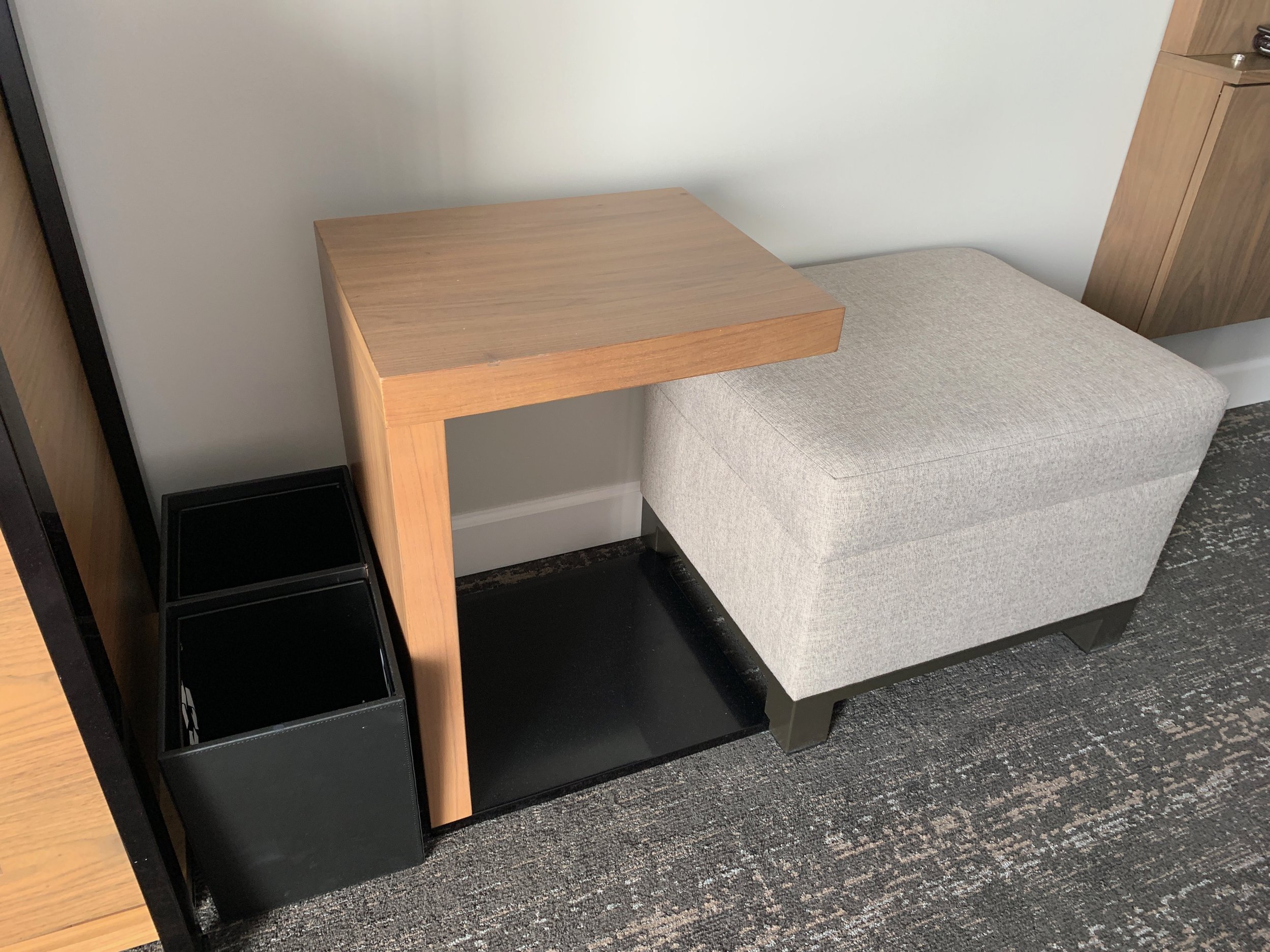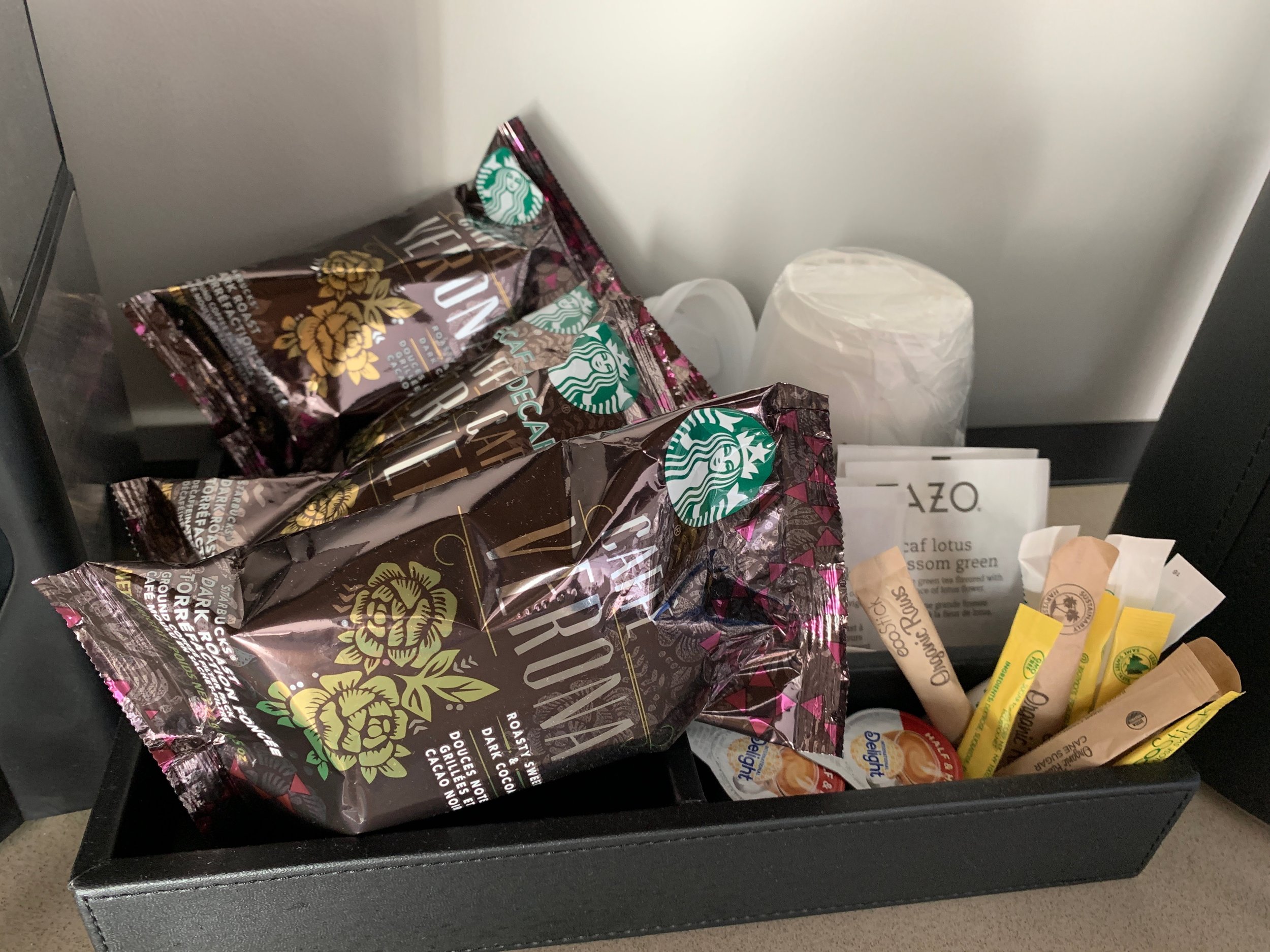 The bathroom was clean and had everything you would need. Shampoo, conditioner, bath gel, lotion, cotton balls and q-tips, toothpaste, mouth wash, hair dryer. And if there was anything that you would need, they forreals got it. I share more down below in "amenities."
We were given the choice of an outside facing or terminal facing room. We chose the outside facing balcony and were surprised to see how large it was. The balcony faced out toward the parking lot and air tower. A little bit of an eye sore BUT way better than watching people enter through security, amirite?!
We only have 2 criticisms for the room: thin walls and a smelly shower curtain. A family with two or three young children stayed right next to us and boy, could we hear the running, tumbling, screaming, and crying and conversations pretty clearly. And for being a newly renovated room, it's concerning to me that the shower curtain already smells like a sour rag. I don't know about you but give it a year and I can only imagine how it'll be then. Eek.
Aside from those two cons, this was a very solid room.
Dea: 8.5/10
Kevin: 8/10
Convenience:
The Hyatt is located right inside the main terminal above the TSA Security Checkpoint for Gates 70-129. There are plenty of signs throughout the airport guiding you to the Hyatt Hotel entrance.
You'll find a set of escalators and elevators sandwiched between the TSA Security Checkpoint (right next to the Clear kiosks) that'll lead you up to the hotel lobby.
The commute from baggage claim to the front desk was literally a two minute walk (Ok let's be more real, maybe 5 minutes with weaving through people.) But seriously, it's a short walk and elevator (or escalator) ride getting to and from the airport.
Not only are you right inside the airport, you get the Orlando International Airport perks as well. There's a food court, stores to peruse through, restaurants and a 24 hour Starbucks. I think the only thing we had an issue with was the hours of the stores and restaurants. It seemed that not many restaurants, both sit down and counter service, were open past 9pm on a Friday evening. If wanting a bite to eat after 9pm, you're limited to the 24 hour Starbucks and the hotels restaurants: McCoy's and Hemisphere.
Cruising with Disney Cruise Line? They offer Disney cruisers added perks like a luggage transfer service and a Disney Cruise Line help desk right inside the lobby.
We were even able to check our bags in a few hours before our flight, have time to hang out in the room for an extra hour before heading downstairs before brave the security lines. The Hyatt makes this a very nice and stress-free traveling experience.
Dea: 9.5/10
Kevin: 10/10
Although we did not have time to use them, the Hyatt has some great amenities. There is a gym, swimming pool, and two restaurants.
For a limited time, this Hyatt Regency offers what they call "wellbeing" amenities from now until March 15, 2019. These amenities include a Fit Kit where they bring the gym to you with on-demand fitness videos right on the room television. They also have a cell phone sleeping bag and a lavender-scented soothing sleep sticker and eye mask. Again, we didn't use it but it's nice to have the option.
Dea: 9/10
Kevin: 8.5/10
Value For Money:
We traveled for work so we did not pay out of pocket for our stay. HOWEVER, we believe it's a great value depending on your situation. Situations where we think you'll benefit from this Hyatt: if you need to catch an early flight, need a place to sleep before your cruise out of Port Canaveral, need a day room and/or a place to rest during a long layover or long wait before a flight - this is hands down THE hotel for you. I wouldn't hesitate to book this hotel again.
Dea: 9/10
Kevin: 8/10
Overall:
Great experience! Impeccable service! and Convenience like no other.
Like Arnold Schwarzenegger once said, "I'll be back."
Dea: 9.5/10
Kevin: 9/10